NAIO TECHNOLOGIES LAUNCHES INNOVATIVE NEW AGRICULTURAL AND WINE MAKING ROBOTS
Naio Technologies, the French company that's a pioneer in agricultural robots, has launched a new bot called Orio – a straddle type robot which succeeds its big brother Dino and is already appealing with its increased versatility, precision and autonomy. The company also recently unveiled Jo, a robot designed to help in the wine-making process.
Intended for row crops, bed vegetables, arable crops (sugar beets, potatoes), or even seed producers, Orio is aimed at a wider target and covers more crops than Dino.
Naio Technologies has also collaborated with UK technology company Tillet and Hague, adding a camera guidance system and a Tillet and Hague inter-plant electric tools and rear tool carrier, as well as other new features. All this means Orio has "gained considerably in versatility and tillage efficiency."
100% autonomous and available now
In addition to being robust, Naio says that Orio will be able to operate without any human supervision in the course of 2022. It will therefore be possible to tackle tasks with higher added value while the Naïo straddle carrier will do its job in complete safety and with complete autonomy.
Recently arrived in the United States, it is available from this first quarter in service delivery (Robot As A Service) in California. It is also possible now to pre-order it throughout Europe for deliveries from the second half of the year, Naio Technologies said.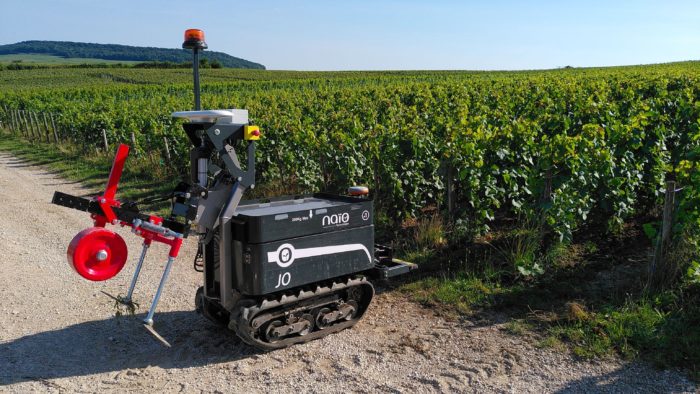 Jo, meanwhile, is a crawler robot designed for high-density vineyards and it now completes the range of Naio wine robots alongside its big brother Ted.
According to Naio Technologies, it is the work of several years in collaboration with the CIVC (Comité Interprofessionnel du Vin de Champagne). Dedicated to narrow vines and tree nurseries, Jo is a crawler robot said to be perfectly suited to the characteristics of the Champagne vineyards.
It was in 2016 that the first tests began. Since then, the CIVC team has been able to test four different chase robot prototypes, Naio Technologies said.
A 100% autonomous and 100% electric robot
Like his colleague Ted on the vine, Jo benefits from the same navigation and intelligence system proven on more than 250 Naïo Technologies robots.
Equipped with lithium batteries, it is 100% electric. Jo is guided by GPS RTK, offering great precision and it can perform its work autonomously, without human supervision, Naio Technologies claims. It will therefore be possible to entrust his tillage to Jo and tackle other tasks with greater added value with confidence, the company adds.
Jo is available now for pre-order. 10 units are planned in the course of 2022.
For more trade talk, click here.
---
Join us at SIAL Paris as exhibitor Join us at SIAL Paris as visitor