SPAR INTERNATIONAL ROLLS OUT NEW INTEGRATED GROCERY E-COMMERCE PLATFORM
Spar International is to offer a fully customisable e-commerce platform to Spar country organisations and retailers as part of its worldwide digital transformation strategy. 
Spar International has partnered with Naveo Commerce, an end-to-end e-commerce and fulfilment technology provider, to drive the optimisation of Spar's grocery e-commerce offering.
Spar International's e-commerce platform will be powered by Naveo and made available for Spar country organisations across the globe to help enable an optimised online experience for customers. The platform optimises in-store picking and order fulfilment, thereby ensuring rapid delivery to SPAR's customers in the close catchment communities the extensive Spar store network serves. 
Tobias Wasmuht, Chief Executive of Spar International, said the Spar e-commerce solution provided by Naveo offers a "best-in-class customer experience and technology solution", allowing localisation to market specifications and is fully customisable to provide an enhanced shopping experience utilising the platform's speed and agility.
The modular approach of Naveo's platform is built to integrate complex systems, and will allow Spar national, regional, and individual stores to pick, choose and adapt the modules required while also ensuring order processes remain seamlessly integrated throughout.
As a result of Spar's significant digital transformation project, Spar country organisations will now benefit from this latest innovation in new technology development, helping them to meet evolving consumer expectations and needs as part of the brand's Better Together strategy.
Wasmuht said: "Spar has evolved its online grocery presence significantly over the last 15 years and today, Spar is possibly unique in offering an online grocery offer under a single brand in 30 countries worldwide.
"The partnership with Naveo allows us to significantly build on this capability by transforming our e-commerce proposition and in turn enhancing our online offer to the communities we serve with more than 13,500 stores worldwide. We are delighted to be working with the team at Naveo on a global scale and are looking forward to the future as we commence our roll out across multiple markets and continents in the coming months."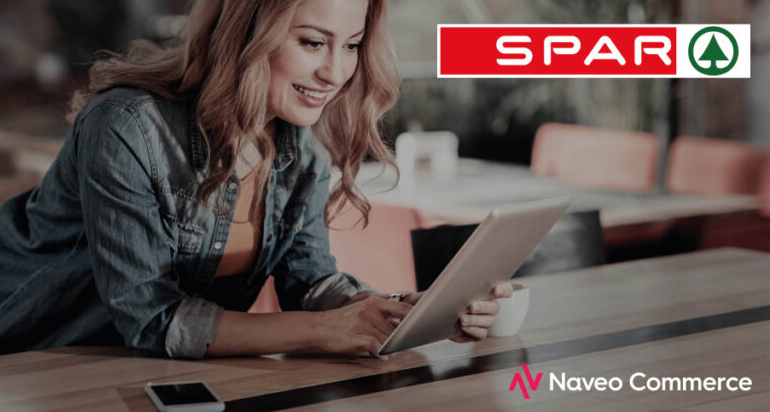 Moris Chemtov, Chief Executive at Naveo Commerce, said his company prides itself on the flexibility of its e-commerce solutions."
Chemtov added: "We are thrilled to be enabling Spar International to fully embrace digital transformation and customise their digital solutions to best suit their workforce and their customers. It has been a fantastic opportunity to partner with Spar for this initiative, especially during a period of significant change within the grocery industry. We are looking forward to working closely with the Spar team moving forward as they continue their drive to deliver a streamlined customer experience."
The roll-out of e-commerce solutions has grown dramatically in 2020, with more than 30 Spar country organisations providing customers with online shopping at the start of this year. Wasmuht added: "Combining the extensive store network of over 13,500 stores with agile and fast instore picking to delivery is a successful offline to online model for Spar, ensuring our worldwide independent retailers can access global best practice and integrate this in their local offer."
Spar International's Growth in e-commerce
Over 20 years ago, Spar introduced its very first e-commerce solution – Spar Weinwelt.at online store, operated by Spar Austria. Twenty years ago, this pioneering online retail proposition already integrated in-store wine scanners with an online range supported by a curated digital wine magazine.
Wasmuht said: "During 2020, the pandemic accelerated retail technology trends, prioritising low-touch retail solutions and quickening the adoption of online grocery retail solutions. The Spar international network enables us to share insights, knowledge, and best practice in all digital and technology developments, thus fast-tracking tried and tested solutions across the markets in which we operate.
"Combined with ongoing investment in technological advancements, this collaborative approach has enabled Spar countries to effectively meet fast evolving customer needs with speed and agility."
In another bid to simplify and improve customer service, as reported on Sial Paris newsroom in June, Spar Switzerland recently opened its first EUROSPAR flagship supermarket in the municipality of Schänis, a move described as "the start of a new phase" by the Spar operator. 
---
Join us at SIAL Paris as exhibitor Join us at SIAL Paris as visitor