RIGHT FARM AIMS TO UPTURN THE FOOD AND AGRICULTURE SECTOR AFTER $2.8M INVESTMENT
Right Farm, a digital platform that sources fresh produce from farms, has attracted $2.8 million in seed funding highlighting how hi-tech food and agriculture platforms are drawing in vast investments.
The UAE-based platform secures food from farms both within the country and abroad, and supplies it to the retail and food sector.
The investments – made by DisruptAD and Enhance Ventures, a regional "venture studio" – will support what has been described as Right Farm's "aggressive" growth plans and will help with developing the platform's technology.
In a statement, Elie Skaf, Right Farm's CEO, who co-founded the company last year, said the investments would "help accelerate our start-up journey".
DisruptAD is part of ADQ, the Abu Dhabi Developmental Holding Company, and Skaf said that the investment would "unlock access to ADQ's growing food and agriculture portfolio".
"We have [an] established product-market fit and are developing technology to modernise the fresh produce industry to ensure seamless customer experience while maximising operational efficiency and enabling scale across markets," added Skaf, who is on the left in the main photo.
"By closing this funding round, we are confident our business will capture further growth opportunities across different segments of the market as we build a sustainable and commercially viable business."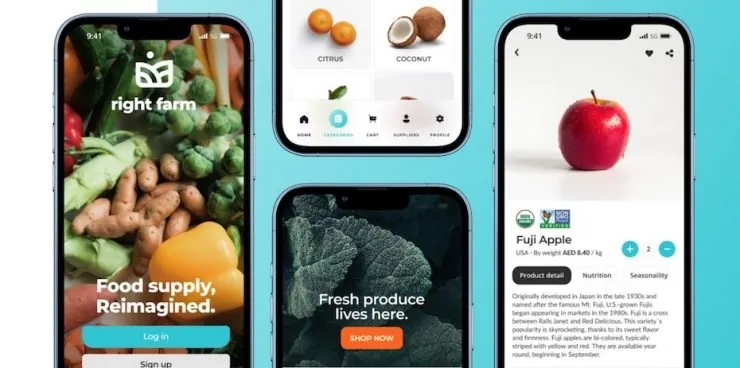 Using predictive technology that covers routing, operations and purchasing, Right Farm is said to offer a process that takes in every step from farm to table.
Businesses can place an order for any of more than 1,000 fruits, vegetables and other produce, with delivery due within 12 hours.
Other key figures in Right Farm include Mazen Mourad, the COO, who is on the right in the main photo, and Mohammad Abu Ajamieh, the CTO, in the centre of the image, while there are more than 30 staff in total.
Representing more than a dozen nationalities, the personnel have worked at numerous technology and fresh produce companies, among them the Fresh Fruits Company, Groupon, StarzPlay, Noon and Careem.
According to Alper Celen, the founder of Enhance Ventures, Right Farm is "an attractive investment proposition" because demand for fresh produce is on the rise. The aim, he said, was to build the company into "a household name for farmers and the food industry".
"Our investment with DisruptAD reflects our belief that Right Farm's leadership has the right vision that can transform the fresh produce sector for the long-term," he added.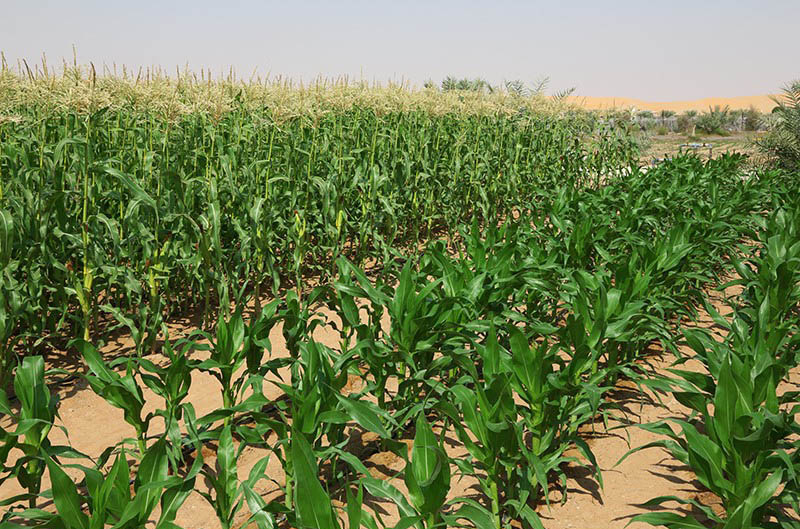 SIAL Paris Newsroom has recently reported on other online platforms in the MENA region that are changing the way the food and agriculture sectors operate.
In May 2021, for example, it was revealed that Mozare3, an Egyptian agri-fintech platform, had raised more than $1 million in a pre-seed round of fundraising. Investors included Algebra Ventures and Disruptech Ventures.
Describing itself as a platform for more than 20 million "underserved, unbankable" Egyptian farmers, the platform, which was founded in 2020, says it can change the way farmers plan, farm and sell their crops.
Named after the Arabic word for smallholder farmer, the platform says it does this by offering farmers access to financial products, markets and agronomy support, something described in the sector as input financing.
Reports from March by Reuters, the news agency, said that Egypt's three largest state-owned banks had set up an $85 million fund to invest in financial technology, and Mozare3 was one of its preliminary investments.
Called Nclude, the fund includes investments from Banque Misr, National Bank of Egypt and Banque du Caire and will focus on the Middle East and Africa. Global Ventures, a venture capital firm, is a partner in the fund.
According to Reuters, the past two years have seen significant increases in investments in Egypt's fintech sector thanks to changes in regulations, which has expanded the opportunities available to the country's unbanked citizens.
---
Join us at SIAL Paris as exhibitor Join us at SIAL Paris as visitor