ATHENS GAINS 3 NEW ONE-STAR MICHELIN RESTAURANTS TO ITS TALLY
The Michelin Guide, a benchmark in global gastronomy, has unveiled its latest guide to Athens, the Greek capital, with three new one-star establishments making the much sought-after list and one restaurant attaining a Michelin Green Star for its commitment to sustainability.
The 2023 selection of the Athens guide highlights a total of 31 restaurants and Michelin commented they "electrify the local culinary scene". The organisation added: "The 2023 guide for Greece's capital city, underscores what the magnificent Athens has to offer for local gourmets and international travellers. From new stars to a Green Star, Bib Gourmand, and freshly selected restaurants, everyone will find their perfect culinary match."
Among the 31 restaurants selected, just one – Delta – held a two-star rating, while 11 got one star. Three of those latter venues were newcomers to this elite group: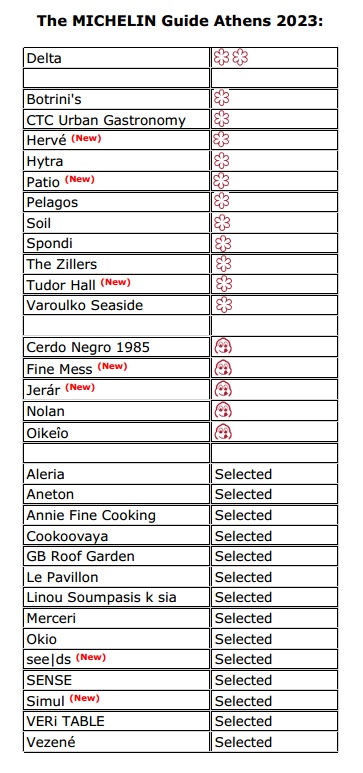 Hervé – Led by chef-owners Hervé Pronzato and Grigoris Kikis, the typical cuisine is influenced by France, Italy and even Asia, and diners can expect an extravagant 15-course menu. The restaurant is said to be an experience in itself, with a Japanese-style bar and open kitchen.
Tudor Hall – An elegant eatery, located atop the King George Hotel where the contemporary menu orchestrated by chef, Asterios Koustoudis, is claimed to have "astounded" the guide's famously anonymous inspectors to directly earn its first Michelin star.
Patio – Located in The Margi Hotel, the only accommodation in Athens that has its own organic farm providing fresh farm-to-table ingredients, chef Panagiotis Giakalis offers up modern fayre in Vouliagmeni, the most exclusive area of the Athens Riviera.
As well as the starred restaurants, five Bib Gourmands were awarded, two to new restaurants; three got green stars (one new); and 14 were placed in the 'selected' category, of which two were new.
"Unwavering commitment to high-quality cooking"
The Michelin Guide has been established in Athens since 1987. Gwendal Poullennec, International Director of the Michelin Guides, commented: "During this time, the commitment to showcasing high-quality cooking has been absolutely unwavering. The local industry exudes buoyant dynamism, while still placing an onus on local produce."
Among the selections this year, all the restaurants starred in 2022 maintained their culinary distinction, which is good going and a testament to Mediterranean flavours coupled with sophistication, as well as a farm-to-table philosophy. Poullennec said: "Greek traditions are fabulously flavoursome and are the playground of local talent, promising outstanding culinary experiences, with authentic dishes reflecting the history and culture of the territory."
Green newcomer
Of the three restaurants receiving a Green Star, first introduced in France in 2020, Patio joins Delta and Soil to receive the award for the first time. Its use of the best local produce to magnify local recipes, and elevate Greek flavours was a winner for the judges who said: "Patio knows how to make the difference and sensitise diners to sustainable gastronomy."
The Michelin Green Star aims to highlight restaurants at the forefront of sustainable practices, but that also inspire their guests as well as their peers to move forward in this area.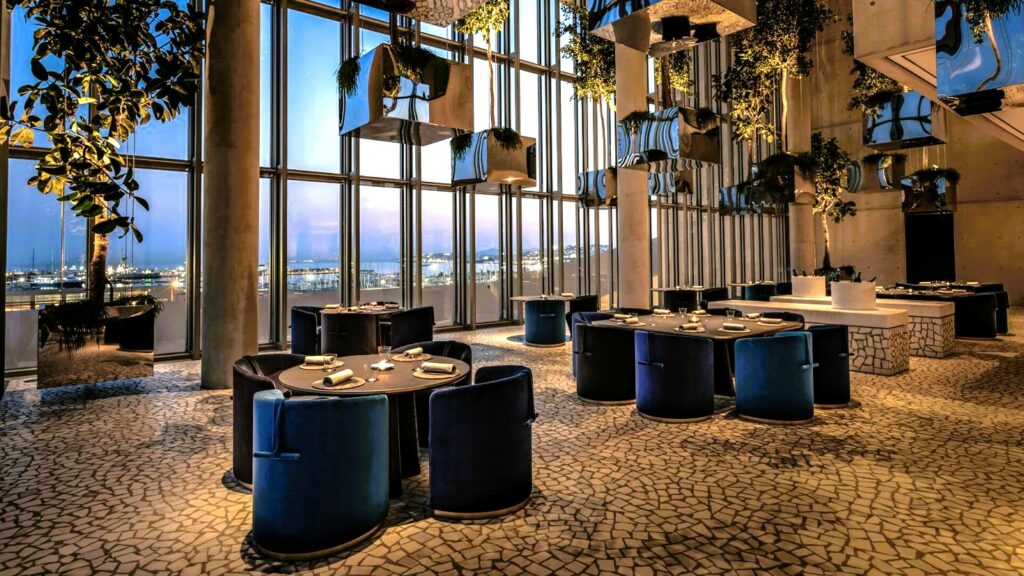 In the Bib Gourmand selection – where more accessibly priced menus can be found making these restaurants firm favourite among foodies – the two newcomers (out of five awards) were:
Jerár – An informal sharing-plates style eatery, with an open kitchen where chef Charis Nikolouzos highlights his Greek roots, with some French and Italian flourishes showcasing fresh and local ingredients. The restaurant is outside Athens' crowded tourist areas ensuring a more laid-back atmosphere.
Fine Mess – Chef Elena Kaperda – already known for the Lick the Spoon pastry project – has taken the BBQ route focusing on smoked flavours making this an original concept in a cosy establishment where diners can savour the 'low and slow' approach.
Finally, among the 14 'selected' category the newcomers were see|ds and Simul. To see the full 31-restaurant line-up go online free of charge or download the app. The Michelin Guide now includes hotels as well as restaurants in Athens and throughout the world to encourage consumers to make educated choices based on elevated style, service, and personality – with options offered "for all budgets" according to the organisation. They can all be booked directly through both the website and app.
---
Join us at SIAL Paris as exhibitor Join us at SIAL Paris as visitor