READY-TO-DRINK COCKTAILS ON DOUBLE-DIGIT GROWTH PATH TO 2024
As well as accelerating trends in the alcoholic drinks sector, Covid-19 has also changed some of them thanks to new consumer behaviour. In the US, data is emerging that ready-to-drink (RTD) cocktails in particular saw unusually fast growth, and will do so in the future, despite life returning to normal.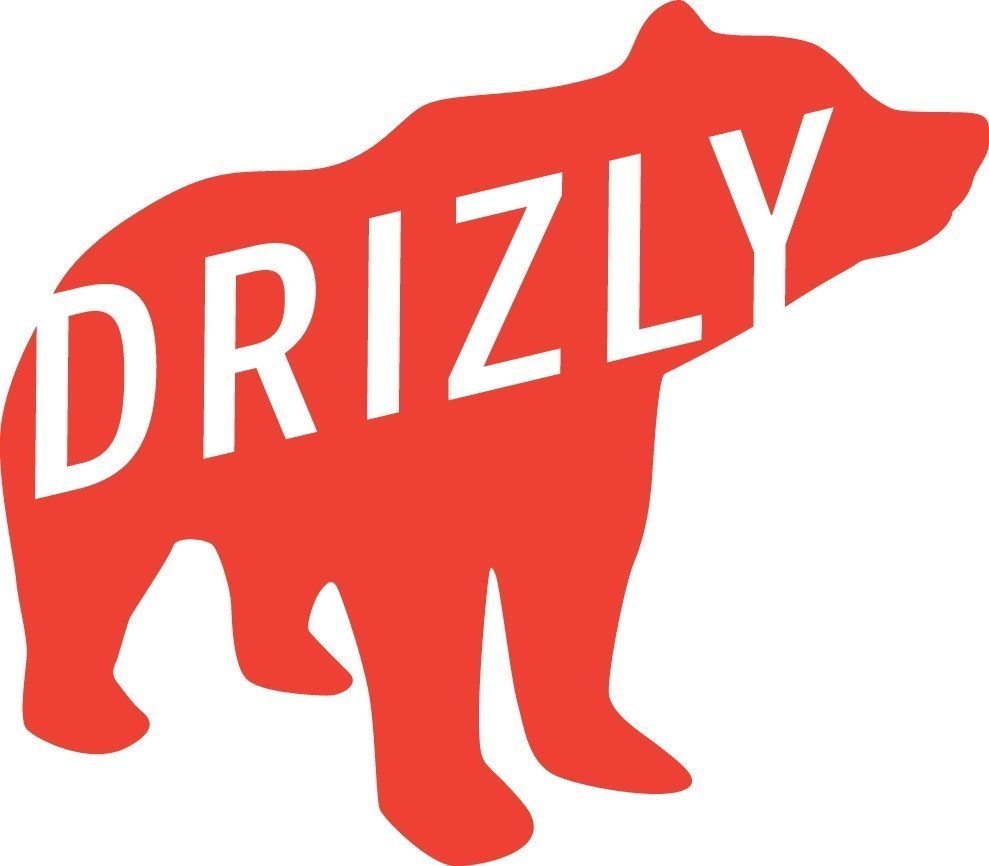 According to BevAlc Insights, the data arm of e-commerce alcohol drinks leader Drizly, "few other categories saw more stratospheric growth during Covid-19 lockdowns than RTDs". This, the analyst says, was driven by consumers' desire for high-quality, easy-to-enjoy, portable cocktails that they were looking to drink at home.
However, even with those same consumers now returning to restaurants and bars, demand for RTD cocktails has not waned. The category continues to grow, and more brands and SKUs are coming into the market as reported previously in the SIAL newsroom. While demand for hard seltzers may begin to level off, ready-to-drink cocktails are set for more growth according to the data.
Ready-to-drink cocktails – here to stay?
Going back to pre-pandemic 2019, it was clear from Nielsen data that RTDs were a category to watch as annual sales in the segment jumped 574%, with malt-based cocktails accounting for $4.7 million (€4.16m) in annual sales. In 2020 they proved themselves during the pandemic, and held strong again in 2021 with triple-digit growth.
Year-on-year off-premise sales (by value) increased 156% for spirits-based hard seltzers for the 52-week period ending October 2, 2021, and sales for ready-to-drink cocktails grew 126%, according to NielsenIQ. Another consumer retail analyst IRI, said that premixed cocktails and spirits-based seltzers accounted for just over $1 billion in off-premise sales over the 52 weeks ending 28 November, 2021.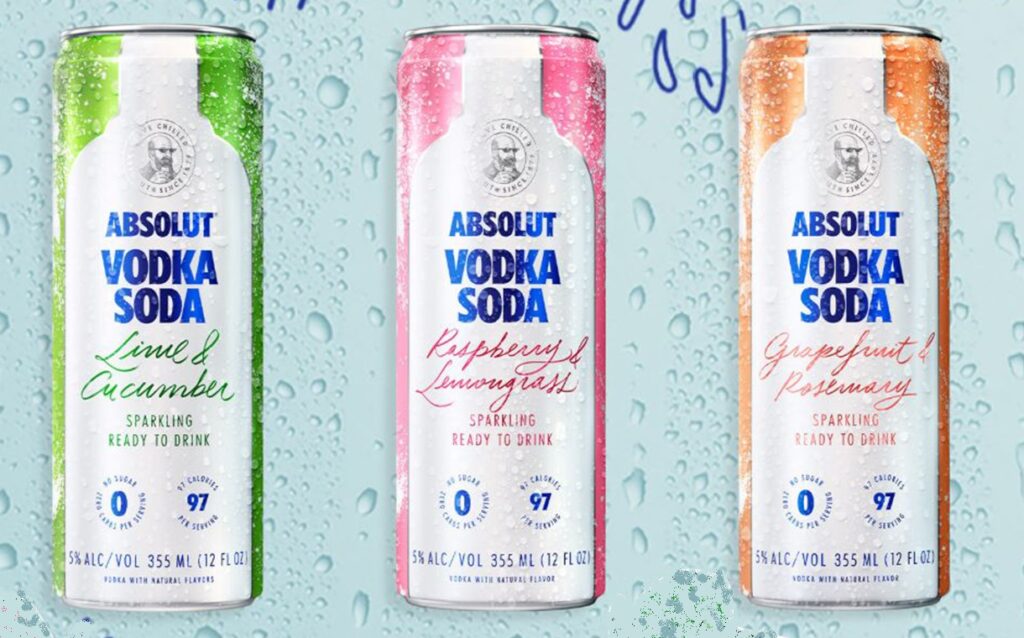 BevAlc Insights commented: "Though ready-to-drink cocktails were already growing, the onset of Covid-19 set the category on fire. When restaurants and bars closed in March 2020, consumers brought on-premise cocktail culture home." This not only resulted in a shoppers buying the ingredients to make cocktails from scratch, they also opted for the easier option of canned, single-serve RTDs.
"Canned cocktails are a convenient solution," said Earl Kight, the co-founder and chief sales and marketing officer for Cutwater Spirits. "No ingredients, no prep or clean-up." They were also perceived as a safer choice during the pandemic. "They are great for people willing to socialise, but want to minimise contact by doing so outdoors," said Jill Burns, a co-founder of Austin Cocktails.
A speedy evolution
Where RTD cocktails have come into their own, is in their sophistication. "Today's RTD cocktails have come a long way from decades-old predecessors like wine coolers and malt-based hard lemonades," said BevAlc Insights.
It has become a much diversified sector with some products very much at the premium end of the market using high-end spirits, with natural ingredients and ingredient transparency also big draws for shoppers. Strengths vary too spanning a wide range of ABVs to suit picky consumers.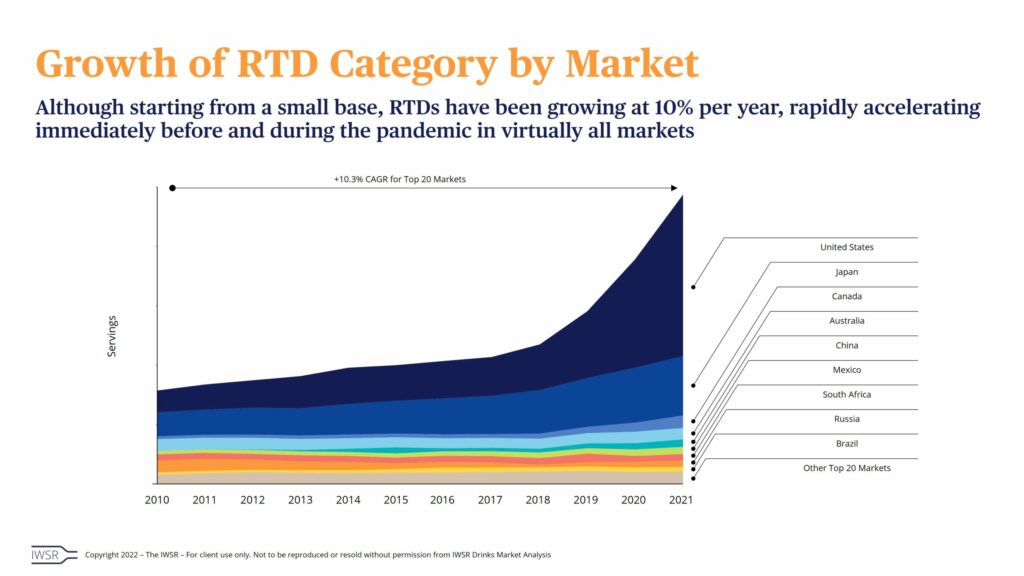 Vodka is the spirit of choice for ready-to-drink cocktails. NielsenIQ says that vodka-based drinks accounted for more than 50% of the category's off-premise sales in the 12 months ending September 2021, just over double the previous year. Tequila-based RTDs grew fastest at 138%, followed by rum-based lines at 132%.
Drizly admits that the RTD cocktail category is still small, but the growth rate has been rapid. From a sales share of less than 0.5% in 2019 it has risen to nearly 2% in 2021 and 2022 should see further in-roads, helped by so many newcomer brands and lines coming to market.
Drizly had over 450 ready-to-drink brands on its site by the end of 2021 up 45% on the previous year, and up 170% on pre-pandemic 2019. The site's top selling brands were led by vodka-based High Noon – on top for two years running – followed by Cutwater Spirits. High Noon straddles the hard seltzer and RTD cocktail categories which Liz Paquette, Drizly's head of consumer insights says has "allowed the brand to capture share of hard seltzer buyers".
Drizly's Top-Selling RTD Brands in 2021
High Noon
Cutwater Spirits
On The Rocks
Jose Cuervo
Skinnygirl
1800 Tequila
Buzzballz
Bacardi
The Long Drink Company
Fisher's Island
Ready-to-drink buyers skew towards women on Drizly at 60% and Millennials hold the largest share of purchases at 62% followed by Gen X at 23%. However, attention should be on Gen Z. Paquette said: "The younger generations have seen the most share growth in this category over the past few years as it has evolved from primarily multi-serve margaritas to a wide array of single-serve cocktail flavours."
As for the future, a small share now may turn into something more. Drinks analyst IWSR predicts that the ready-to-drink category will grow at an average annual 11.5% rate from 2019 and 2024. It means that the revenue potential for retailers and producers is big.
---
Join us at SIAL Paris as exhibitor Join us at SIAL Paris as visitor