SPARKLING WINE SALES TO HIT $85 BILLION BY 2031 SAYS REPORT
Consumer demand for sparkling wines is set to grow fast in the coming decade propelling sales to $84.6 billion by the end of 2031 according to a new report by Dubai-based research house Fact.MR.
The company – which values the market at $43 billion this year – forecasts a robust CAGR of 7% between 2021 and 2031 to take the category to almost double their current size by 2031. Demand is being spurred by a shift to more premium alcoholic beverages as disposable incomes rise in some parts of the developing world.
In a statement, Fact.MR said: "From 2016 to 2020, prospects appeared quite modest, with the industry registering a CAGR of 3%. They further dwindled during the Covid-19 outbreak due to the imposition of stringent lockdowns. However, with the eventual flattening of the infection curve, certain restrictions were lifted, thus permitting online delivery of sparkling wines. Manufacturers are also likely to discover highly lucrative growth prospects across the developing world."
Developing markets have sparkling potential
For instance, as of 2020, alcoholic beverage consumption in India was said to have reached 6.5 billion litres, up from 5.4 billion litres in 2016 according to Statista. The steady increase in alcohol consumption can be attributed to multiple factors including a growing urban population and rising income levels.  
As to value, the Indian Council for Research on International Economic Relations (ICRIER) estimates the market at $52.5 billion. Suppliers such as Fratelli, California's Chandon Brut Rose and India's own Sula Vineyards are expanding in the market.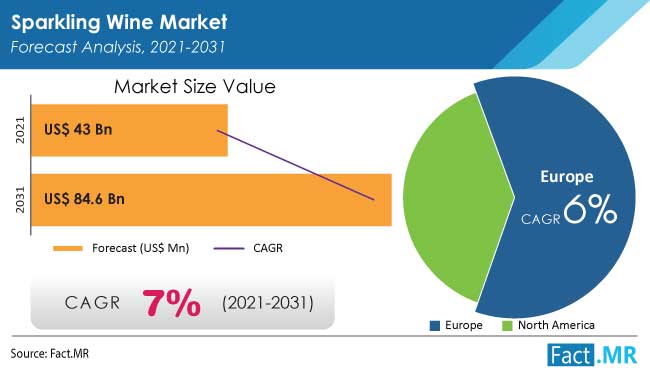 Among the key takeaways from the new study are:
E-commerce will have take a 20% share of sparkling wines distribution by the end of 2021
Brut bubbly will remain the preferred choice, accounting for 33% of revenue by 2031
Demand for extra-brut sparkling wines could capture 20% revenue share
Europe remains the global sparkling wine hotspot, generating an opportunity worth $5 billion and a CAGR of 6%
Consumption of sparkling wine in North America to surge at over 4% CAGR until 2031.
"Despite the Covid-19 outbreak, e-commerce sales of sparkling wine have set new records owing to the surge in residential consumption of wine. Also, the emerging trend of consuming champagne and wine at casual occasions will help future demand," commented a Fact.MR analyst.
Europe's sparkling wine dominance
By volume, Europe had the largest share of sparkling wine producers in 2021, most of them in the European Union (EU). According to the Institute of Wine and Vine, the EU share of global sparkling wine manufacturing since 2000 is in the order of 70-80% by volume.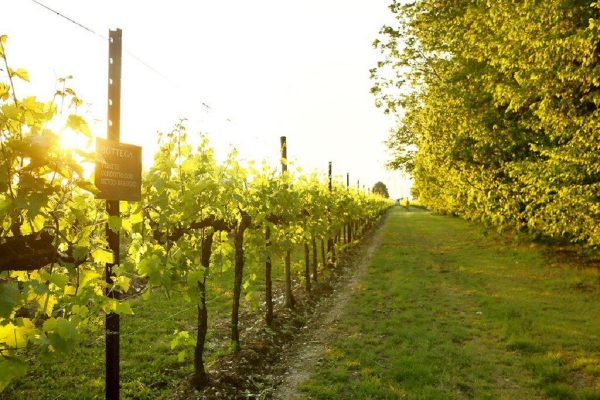 Italy is the world's largest producer since 2019 with sparkling wine production making up about 10% of the country's total wine production. France is the second-largest producer. Europe exports very high volumes of sparkling wines relative to still wine but therein lies a possible problem.
Supply chain failures could hamper growth
Demand in the US may be surging for categories like champagne, but retailers have experienced product shortages. With experts predicting that customers will ramp up celebratory drinks spending this winter, supply bottlenecks and packaging shortages will present challenges well into 2022.
Imported beverages will be the most problematic. According to David Ozgo, senior vice president of economic and strategic analysis at the Distilled Spirits Council, even when suppliers can get hold of shipping containers, getting them unloaded is an issue, as is the next step of delivery due to the lack of truck drivers.
In developed countries, Millennials and Gen Z are taking more notice of social media when deciding how to spending on premium sparkling products. With Millennials' buying power said to "soon beat that of formerly generations" the wine industry is paying more attention to this segment's desires and habits.
Taste and the visual look of sparkling wines are two important aspects, while the story or heritage of the wine is also critical consumer vibrate. Millennials want to know what's in their glass, from the grape variety to the story behind the bottle.
---
Join us at SIAL Paris as exhibitor Join us at SIAL Paris as visitor