WILLIAM GRANT DEBUTS FIRST NO/LOW ALCOHOL LINE IN 5 EUROPEAN AIRPORTS
The fast-growing no- and low-alcohol segment is gaining ground in new channels including duty-free. UK-based independent family-owned distiller, William Grant & Sons, has just announced it has launched its premium ultra-low alcohol spirit brand, Atopia, into airports in partnership with German travel retailer Gebr. Heinemann.

Heinemann is offering the product – the first from William Grant in the ultra-low alcohol segment – in five key European duty-free air gateways. They are Frankfurt, Amsterdam, Hamburg, Berlin and Copenhagen airports.
Atopia is bottled at 0.5% ABV (alcohol by volume) and is available in its original Spiced Citrus flavour for travel retail, a line first launched in domestic markets in June 2019. The slow move into airports probably reflects the Covid pandemic during which travel numbers collapsed and new airport launches were curtailed as a result. William Grant – best known for its famous whiskies like the blended Scotch, Grant's, and single malts Glenfiddich and The Balvenie – is also a newcomer to the no/low-segment, another reason for caution.
Germany an obvious target for William Grant
According to London-based alcohol drinks industry analyst IWSR, no- and low-alcohol beer/cider, wine, spirits, and ready-to-drink (RTD) products grew by more than 6% in volume in 10 key global focus markets in 2021. The segment now command a 3.5% volume share of the industry – and rising.
Among those core markets of Australia, Brazil, Canada, France, Germany, Japan, South Africa, Spain, the UK, and US, Germany dominates the no/low-alcohol space followed by Spain, and then the US. Volumes of no/low-alcohol products in Germany are more than three times that of the next-largest market of Spain so the choice of Heinemann to spearhead William Grant's entry into travel retail makes sense.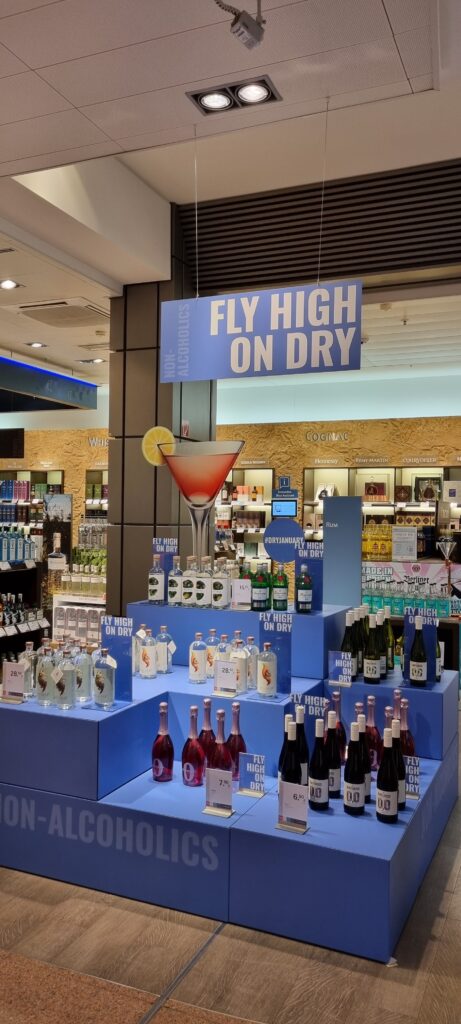 "We are very excited to be the first to launch Atopia into the duty-free marketplace," said Heinemann's liquor, tobacco and confectionery purchasing director Ruediger Stelkens. "We see lots of potential in this category and we plan on building up our no- and low-alcohol offer with a diverse range of spirits and wines to cater for this growing market."
Across the 10 focus countries that IWSR has reviewed it estimates that the total value of no/low-alcohol in 2021 was just under $10 billion, up from $7.8 billion in 2018. Looking ahead, the analyst forecasts that no/low-alcohol volumes will grow by an 8% compound annual growth rate (CAGR) between 2021 and 2025 whereas regular alcohol volume growth will be a more modest 0.7% CAGR over the same period.
Established brands moving into no/low alcohol
Emily Neill, COO of IWSR Drinks Market Analysis said: "Interest in no- and low-alcohol drinks has increasingly become a year-round trend among consumers across the world. To meet that demand, beverage alcohol companies have invested heavily to introduce innovative new products. Many established mainstream brands have recently crossed over to develop no/low alcohol versions of their popular beer, wines, and spirits."
William Grant is one of those established names, but among the first into airports which tend to stock high-end lines. Atopia fits the bill in that it is positioned at a premium level and it will take centre stage in Heinemann's latest no- and low-alcohol 'Fly High on Dry' category activations.
The Atopia liquid was created by Lesley Gracie, William Grant's master distiller as an accessible but special-flavoured botanical beverage. Gracie commented: "Atopia uses our distilling and blending expertise to create a new generation of spirits. The distillates have been selected and combined with precision, meaning that you can pick out each flavour separately whilst no one flavour dominates over the other. The flavour is full, from first taste to finish."
While the Heinemann duty-free listing is the first for Atopia, more are in the pipeline according to Oksana Ohene-Adu, customer planning and activation manager for global travel retail at William Grant.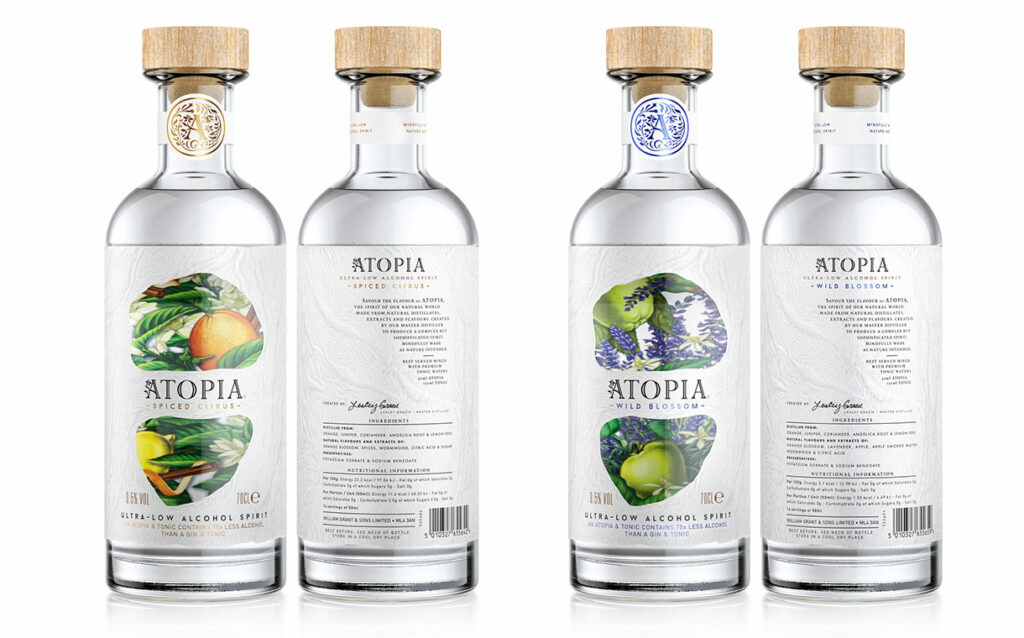 ---
Join us at SIAL Paris as exhibitor Join us at SIAL Paris as visitor