DAIRY PRODUCTS CHINA: STRONG IMPORT GROWTH PREDICTED
A new report has cast light on the dynamic dairy industry in China, with strong growth of dairy products predicted over the next ten years.
The recent report from Research and Markets has predicted that China's imports of dairy products will grow over the next ten years, from 2023 and 2032. The report claims that due to living standards of Chinese residents improving, there is a heightened demand for dairy products. In turn this informs an increase in importing dairy products, seeing as price and capped production growth means that China's local dairy suppliers struggle with demands.
Demand for imports grows in China 
Approximately 3.9 billion tonnes of dairy products, with a total import value of around €12.3 billion ($13.36 billion), were imported into China in 2021. This was an increase of 18.8% when compared to the weight of imports of dairy products in 2020, and an increase of 14% when comparing import value between 2021 and 2020. Figures from 2022 show that across the first three quarters, the import value of dairy products was reported to be €9.84 billion ($10.69 billion), 0.9% higher than at the same time in 2021.
Categorising China's dairy product imports
These imports to China are categorised in two ways: liquid milk and dry dairy products, such as whey, cream, cheese, condensed milk, infant milk powder and packaged milk powder. The country apparently imported around 2.6 million tonnes of dried dairy products in 2021, which was a 17.7% increase compared to 2020, and made up 65.9% of dairy product imports that year. The total value of dried dairy products in 2021 was reported as being approximately €10.61 billion ($11.49 billion), 11% more than in 2020, and accounting for 83.1% of the total dairy imports for 2021.
In the first three quarters of 2022, China imported approximately 1.77 million tonnes of dried dairy products, with imports valued at a total of €8.73 billion ($9.45 billion). This value was 2.4% higher than at the same period in 2021.
The report shows that China imported 31.2% more tonnes of large packaged milk powder in 2021 compared to 2020, with 1.275 million tonnes of the product type imported in 2021. The import value was 39.6% higher than in 2020, being approximately €4.25 billion ($4.6 billion). Research and Markets cited New Zealand as China's biggest source of large packaged milk powder when considering import volume. In 2021, China received 69.7% of its large packaged milk powder from New Zealand, with 889,000 tonnes of import volume.
New Zealand was also named among the United States and Australia as China's top three sources of liquid milk. 44.3% of milk imported to China came from New Zealand in 2021. However, the three countries that exported the most dairy products to China in 2021 were New Zealand, Australia and Germany.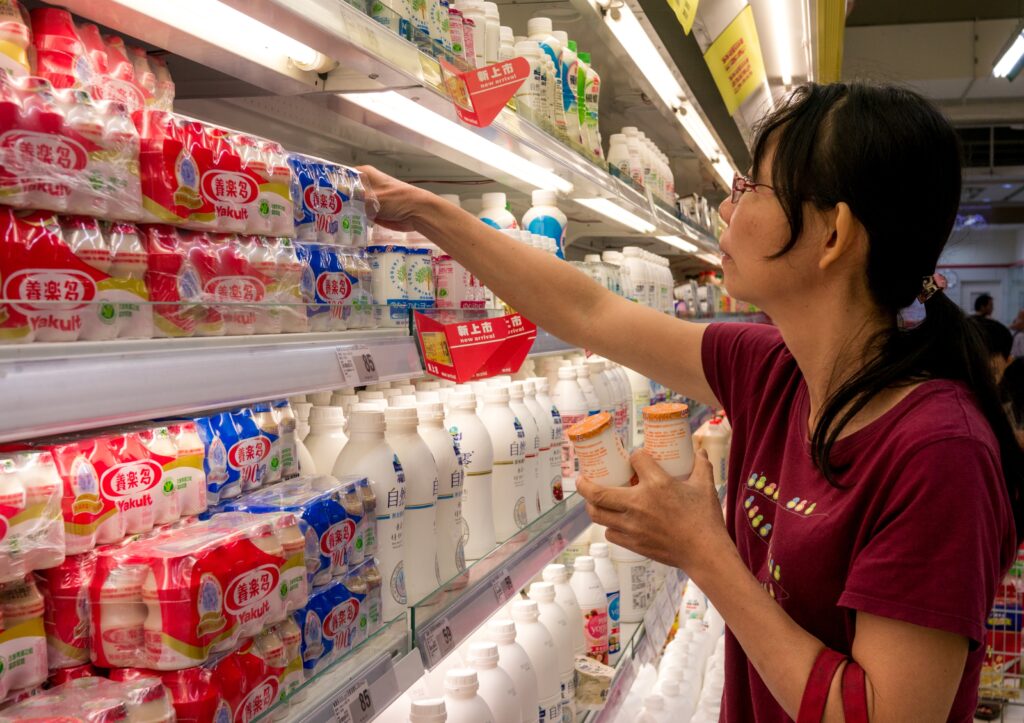 China steps up efforts to support local dairy producers
Despite the predicted growth of imported dairy products expected in the coming years, China has still made distinct efforts to support its local dairy products and suppliers, according to the Dairy Association of China.
Reports indicate that meetings have taken place recently between dairy companies and dairy industry associations in East China and North China. Local officials are said to be taking initiative by offering subsidies to support local dairy farmers as well as other efforts.
The province of Hebei is one region that has benefited from aid, with the reference price for raw milk trading being lowered to approximately €0.53 (3.85 yuan) per kilogram from around €0.54 (3.93 yuan per kilogram). It is thought that this will allow dairy firms to make more business and compensate for the price difference.
The National Bureau of Statistics has provided data showing that between January and November 2022, 28.48 million tonnes of dairy products were produced, an increase of 2.8% when compared to figures from 2021.
---
Join us at SIAL Paris as exhibitor Join us at SIAL Paris as visitor