Bakery products market size to grow by $231.14bn by 2027, driven partly by GF and wholewheat options
The bakery products market is set to grow significantly between now and 2027, rising by $231.14bn from 2022 to 2027, and accelerating at a CAGR of 6.4%, according to a recent market study by Technavio. This growth will be driven to a large degree by the desire for more healthful wholewheat and gluten-free options, and also by the fermented wheat sector.
According to another report by Technavio, the fermented wheat flour market is set to grow by $831.9m from 2022 to 2027, progressing at a CAGR of 5.26%. This growth will be driven by increased awareness of the health benefits associated with fermented foods, leading to a growing demand for products like fermented wheat flour.
This kind of flour is valued for its nutritional richness, containing essential vitamins, minerals, and dietary fiber, which contribute to maintaining good health and preventing diseases. The report offers an up-to-date analysis regarding the current market scenario, latest trends and drivers, and the overall market environment.
In addition, the regional analysis of the Fermented Wheat Flour Market highlights significant contributions from key regions, Technavio found. Europe is projected to contribute about 33% to global market growth, driven by factors like a consumer preference for natural and organic products. North America, led by the United States, meanwhile, exhibits substantial market share due to increased demand for plant-based proteins and heightened awareness of the health benefits linked to fermented foods.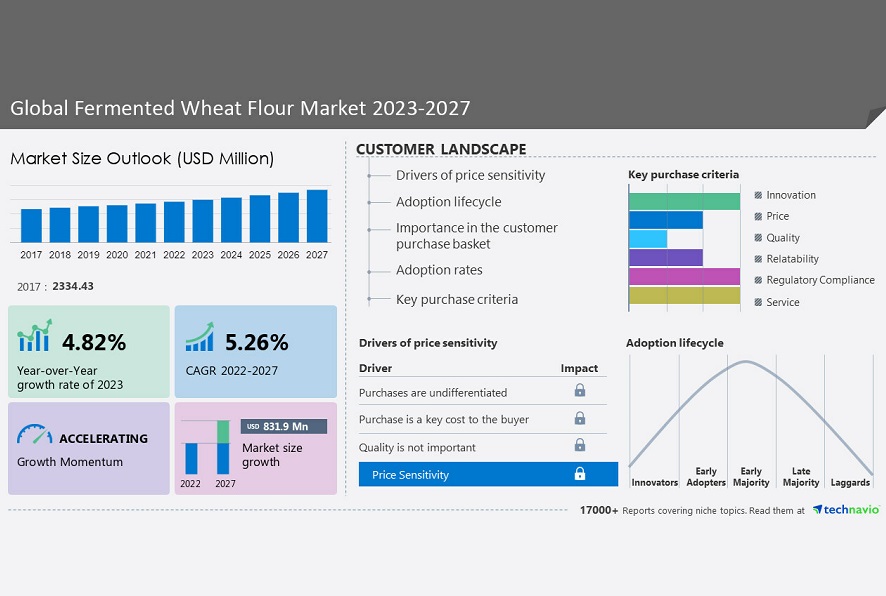 Going back to the main Bakery Products Market Analysis, Technavio says that during the forecast period, the bread and rolls market segment is expected to experience substantial growth, offering a diverse range of products including whole wheat, sourdough, and gluten-free options to address health concerns like wheat allergies and celiac disease.
The bakery products market was valued at $180.95bn in 2017 and continues to be led by prominent players like Warburtons, Technavio said, who are actively expanding their offerings in response to the demand for gluten-free bread. Similarly, the cakes and pastries segment is also on the rise due to an increased variety of offerings, including items like breakfast cakes, croissants, and pretzels.
In related reports, the packaged bakery products market, is expected to be valued at $163.9bn by 2026 with a progressing CAGR of 6.75%. This packaged bakery products market research report extensively covers key market segmentations – Product (bread, cakes and pastries, cookies, crackers and pretzels, and others) and geography (APAC, Europe, North America, South America, and the Middle East and Africa).
Meanwhile, the frozen bakery products market is forecasted to grow by $10.03bn from 2021 to 2026, and the market's growth momentum will accelerate at a CAGR of 4.61%. This report extensively covers the product (frozen cakes, frozen pies, frozen cookies and crackers, and frozen pastries) and geography (Europe, North America, APAC, South America, and Middle East and Africa).
The various bakery products markets are not the only ones to be driven by a desire for more healthy wholefoods and gluten-free options.
According to a further report by Research and Markets, the global snacks market size is expected to reach $1.8bn by 2030, expanding at 2.8% CAGR from 2023 to 2030.
The shifting landscape of food consumption patterns and strategic partnerships between snack manufacturers and food delivery partners have paved the way for remarkable growth in the market, the report says. Consumers are increasingly drawn to snacks crafted from natural, wholesome ingredients, free from artificial additives.
This preference extends to snacks that cater to specific dietary needs like gluten-free, vegan, and organic options, underscoring a growing emphasis on healthier snacking choices. Lifestyle changes, cultural influences, and heightened awareness have fundamentally altered consumer eating habits.
The trend towards snacking throughout the day, particularly in Europe and North America, presents a substantial avenue for manufacturers to innovate and expand. As savory snacks gain traction, mini-meals have become a favored option, with diverse choices like sushi, jerky, and handheld wraps gaining popularity. The distribution landscape is evolving as well, with online channels projected to play a pivotal role in market growth.
The Asia Pacific region stands as a dominant force, influenced by rising living standards, premiumisation, and the dynamic snacking habits of millennials driven by social media. With an eye on global expansion, snack brands are strategically positioning themselves in different regions, offering consumers a diverse array of snack choices from around the world.
For more bakery products news, click here
---
Join us at SIAL Paris as exhibitor Join us at SIAL Paris as visitor