UPSIDE FOODS OPENS NEW MEAT CULTIVATION PLANT CAPABLE OF GROWING 50,000 POUNDS OF MEAT PER YEAR
California-based food tech company, Upside Foods, has opened the world's 'most advanced' meat cultivation plant, capable of 'growing' 50,000 pounds of meat a year.
The company, formerly known as Memphis Meats, opened its Cultivated Meat Engineering, Production, and Innovation Centre (EPIC) in San Fransisco, which it describes as a "game changer" for the entire food system.
Upside Foods' founder and CEO Dr Uma Valeti said: "When we founded Upside in 2015, it was the only cultivated meat company in a world full of sceptics. 
"When we talked about our dream of scaling up production, it was just that – a dream. Today, that dream becomes a reality. 
"The journey from tiny cells to EPIC has been an incredible one, and we are just getting started."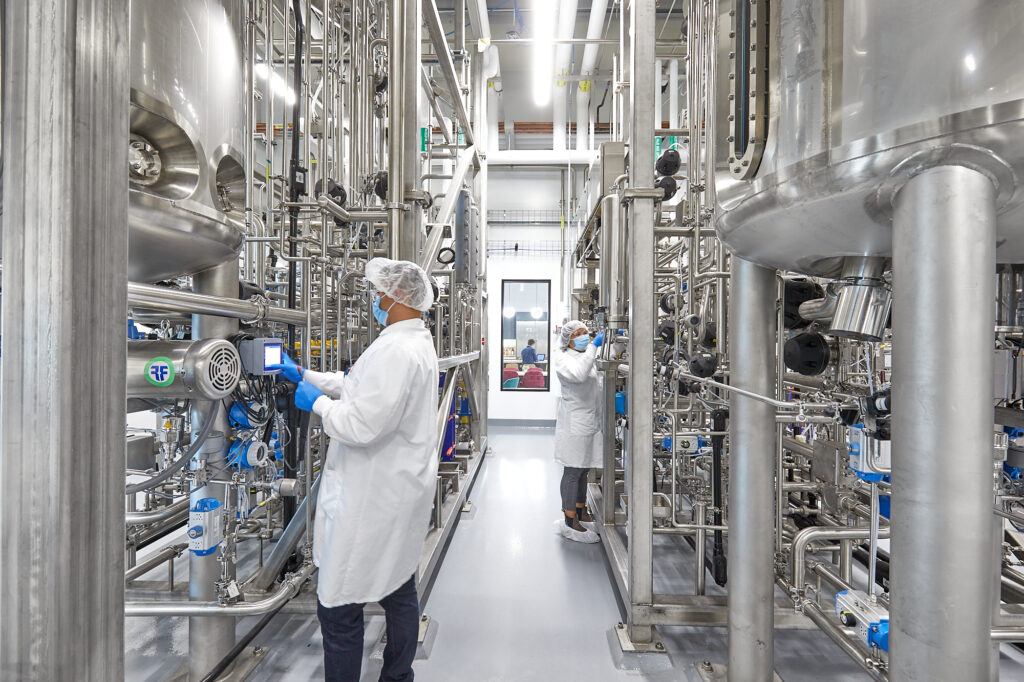 The 53,000 square foot campus in Emeryville, California, is the biggest 'meat growing' facility in North America and most advanced in the world, according to the company, which has already raised over 200 million USD.
Thanks to Upside Foods' patented cultivators, the site is capable of churning out 50,000 pounds of cell grown meat, poultry or seafood a year, from any species in both ground and whole cuts.
Going forward, the company hopes to increase production to 400,000 pounds per year and claim a share of global meat market which is currently valued at 1.4 trillion USD.
Dr. Konrad Müller-Auffermann, senior director of engineering at Upside, said: "Today, our team at Upside has made history.
"This facility is a game changer not just for Upside Foods, but also for the entire food system. 
"I'm so proud of our team for helping to define the future of food, and I can't wait to share our delicious, real meat with the world."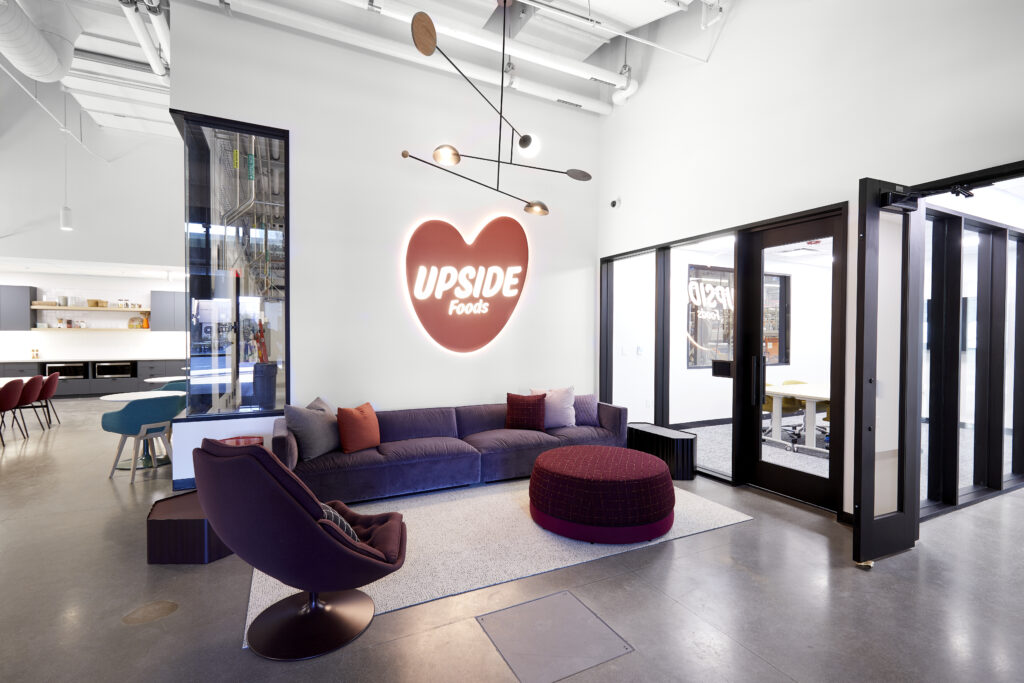 The Berkeley based company has furnished EPIC with an innovation hub where new processes and meat products will be developed before being sampled in the 'modern' tasting kitchen.
Areas for the 'cultivators' to mill and mix feed and formulate, package and test products, as well as offices and conference spaces for employees are also featured.
As was the case with traditional butchers, EPIC has been strategically positioned in a busy urban centre at the heart of the local community, where it is surrounded by residences and restaurants.
From January 2022, members of the public will be invited to tour the new facility which will employ 50 staff at full capacity across production, maintenance, quality & food safety, engineering, and general plant management roles.
To ensure Upside's meat makes people's mouths water, the company, famed for unveiling the world's first cultivated meatball in February 2016, recently partnered with three Michelin Star Chef Dominique Crenn.
EPIC also boasts quality assurance facilities where products can be vetted and like all meat and poultry facilities in the United States, an office for federal inspectors to oversee the process.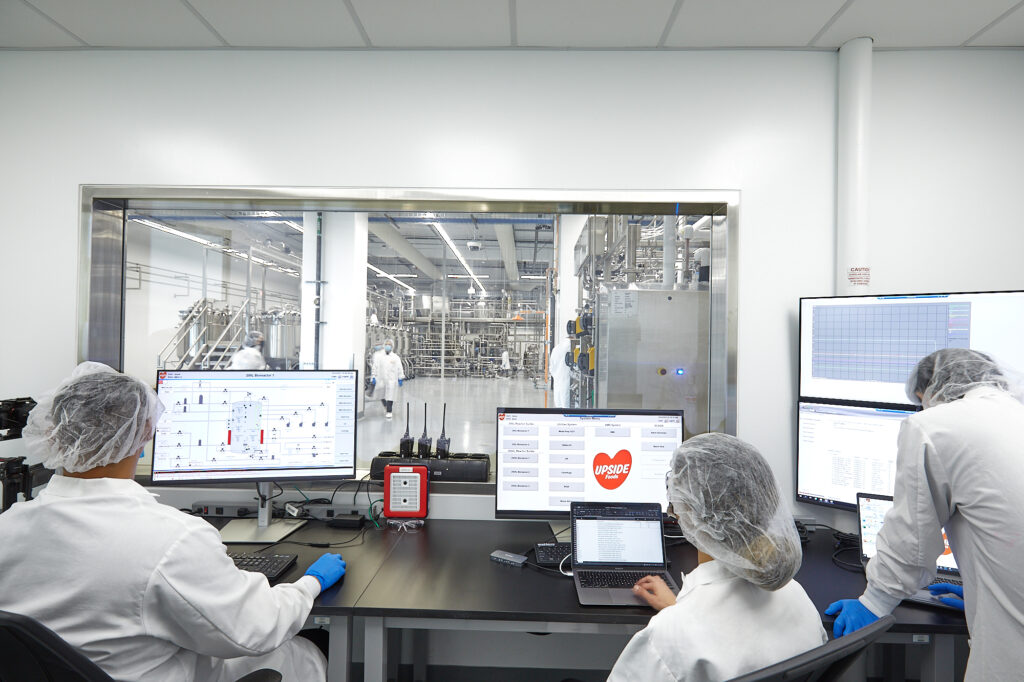 According to latest figures, the global cultivated meat market will grow from 103 million USD to 248 million USD over the next five years at a compound annual growth rate of 15.7%.
Growing meat in bioreactors instead of farming and slaughtering animals could help address a number of pressing global issues, including environmental sustainability, animal welfare and public health concerns, the company says.
According to the FAO, animal agriculture is one of the leading causes of climate change, generating around 18% of global greenhouse gases.
This is because of the resources required to rear livestock and the amount of methane produced by cows, which is far more heat absorbent than carbon dioxide.
In addition, meat cultivation plants can be established virtually anywhere in the world, which reduces transport costs and pollution.
Finally shifting away from traditional animal farming and slaughtering will free up vast amounts of the five billion hectares of land currently being used for agriculture.
Upside's founder and CEO Valeti added: "Our team introduced the world to cultured meat, and the evolution to UPSIDE Foods communicates our passion and potential to make our favourite foods healthier for the planet.
"Our new name showcases the work we are doing to make eating meat a force for good. We can't wait for consumers to try our Upside chicken soon. If you love chicken and the planet, Upside is for you."
---
Join us at SIAL Paris as exhibitor Join us at SIAL Paris as visitor