"Invest in innovation in African agritech to improve lives of citizens" urges politician
Rt. Hon. Alban Sumana Kingsford Bagbin, the Speaker of Parliament of Ghana in Africa, has called on African governments and NGOs to come together to invest in innovation in African agritech towards the improvement of the socio-economic conditions of the citizenry.
He was speaking at the Convention and 30th anniversary of the Council of Ewe Associations of North America (CEANA) in Atlanta, Georgia, under the theme "Empowering our youth towards innovative entrepreneurship in transformational agriculture."
He also urged the organisation and its associate organisations "not to rest on their oars, but to continue the good work towards massive transformation, not only for Eweland but for Ghana as a whole."
Archibald Letsa, the Volta regional minister, reiterated the need for a multi-stakeholder engagement and involvement in the quest to build a resolute and improved agriculture system in Ghana and the rest of Africa to ensure food security at all times.
He said the lack of adequate modern educational resources necessary for the proper education of the youth was hampering efforts being made to modernise the agriculture sector and assured of the government's commitment to ensuring that the sector got the necessary push for a change in the status quo.
Archibald Letsa commented that often, individuals want to acquire huge resources before they deem it fit to support a worthy course.
He said: "As a result, that good intent eventually becomes the obstacle if one is not careful."
According to a report on Business Insider Africa, Bagbin went on to say that technologies such as GPS, sensors, drones, and data analytics must be deployed in African agritech and agriculture to optimise resource use, monitor crop health and improve yields. It will also enable the youth in agriculture to make informed decisions based on reliable data, thus reducing waste and increasing efficiency.
The Ghanian politician also called on financial institutions in Africa to provide access to financing for young farmers, offer low-interest loans, grants, and subsidies to help the youth to invest in equipment and seeds among others. He explained that empowering the youth in agriculture requires a holistic approach that addresses modernisation of agriculture, education, access to resources, policy support and cultural attitudes, the report said.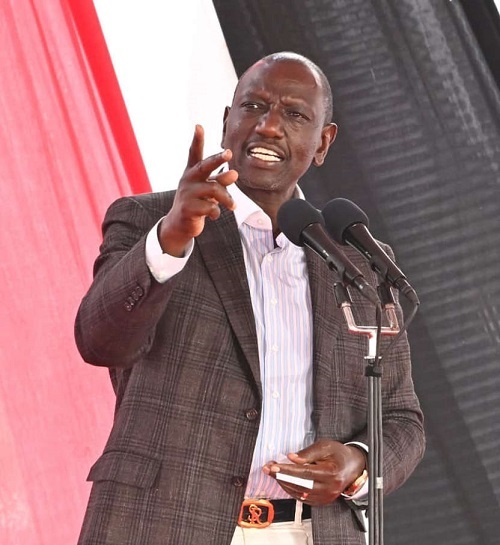 Meanwhile, in separate but related news, also reported in Business Insider Africa, Kenya's President, William Ruto (pictured left, photo credit: Business Insider Africa), speaking at the Africa Food Systems Forum 2023 in Dar Es Salaam, has called for collaboration among African nations to tap into untapped agricultural resources.
President Ruto also encouraged youth involvement, technology adoption, and production subsidies as key strategies to enhance food stability, and emphasised Africa's capacity to achieve self-sufficiency and boost its economy through agricultural exports.
"We must utilise the enormous arable lands that we have to our advantage," he said.
In his speech, President Ruto also mentioned the importance of engaging the youth in agriculture, citing the favourable climate and deliberate efforts to involve young people as factors that will enhance food stability in Africa.
He asserted, "A new narrative around agriculture will make it attract more young people who can help us produce more efficiently." He proposed the adoption of new technology and increased mechanisation as key strategies.
He shared the Kenyan government's plan to subsidise production, adding that efforts are underway to address post-harvest losses through the purchase of mobile dryers and the improvement of market infrastructure.
Top image credit: modernghana.com
For more Middle East and Africa news, click here
---
Join us at SIAL Paris as exhibitor Join us at SIAL Paris as visitor