HOW MOBILE INNOVATION IS INFLUENCING THE FUTURE OF GROCERY STORES
Understanding how mobile innovation, and other technologies, are shaping the future of grocery stores.
The concept of a grocery store has been innovated and revolutionised throughout history. Inventions like shopping carts, self-service aisles and loyalty schemes, have all contributed to an ever-evolving industry. Mobile innovations are perhaps one of the biggest disruptors and influencers, when it comes to the grocery store and grocery shopping as an activity. There are many ways in which the future of grocery shopping is being transformed, here is a look at some of the biggest factors.
New technologies transforming grocery stores
Cutting-edge leadership at some grocery chains has meant that emerging technologies have been experimented with and implemented in certain stores. More and more grocery stores are testing the use of artificial intelligence and augmented reality. Using technology like this can help store management offer customer service that is dynamic and useful.
Artificial intelligence can come in many different forms. One way it has been used in this industry is via chatbots, which are powered by AI. These chatbots assist the customer along the purchasing process, and can address concerns and questions that the customer may have. Dynamic segmentation means that grocery retailers can improve their product recommendations for their customer base.
Voice recognition software is also powered by artificial intelligence. This technology has been used by retailers to introduce voice-based customer orders. The application of this may be very helpful for customers living with disabilities.
When it comes to augmented reality, some grocery stores have reportedly used the technology to create virtual replicas of their stores and products. "When you think of grocery shopping in the future, you might think of AR technology allowing you to remotely peruse the aisles of your favourite store – without leaving your kitchen table", Qrius reports. "That future is a reality now with advanced mobile innovations".  
The growing importance of omnichannel commerce
Grocery stores have long been a "single-channel" process for customers, who engage with companies via a brick-and-mortar store. The rise of online marketplaces has disrupted this, with omnichannel commerce proving to be an essential process for a modern grocery retailer.
Grocery reward apps incentivise repeat customers and boost brand loyalty, while combining mobile and in-store experiences for the customer. Certain custom shopping and prescription-based apps permit customers to use their mobile phones to browse products from the palm of their hand.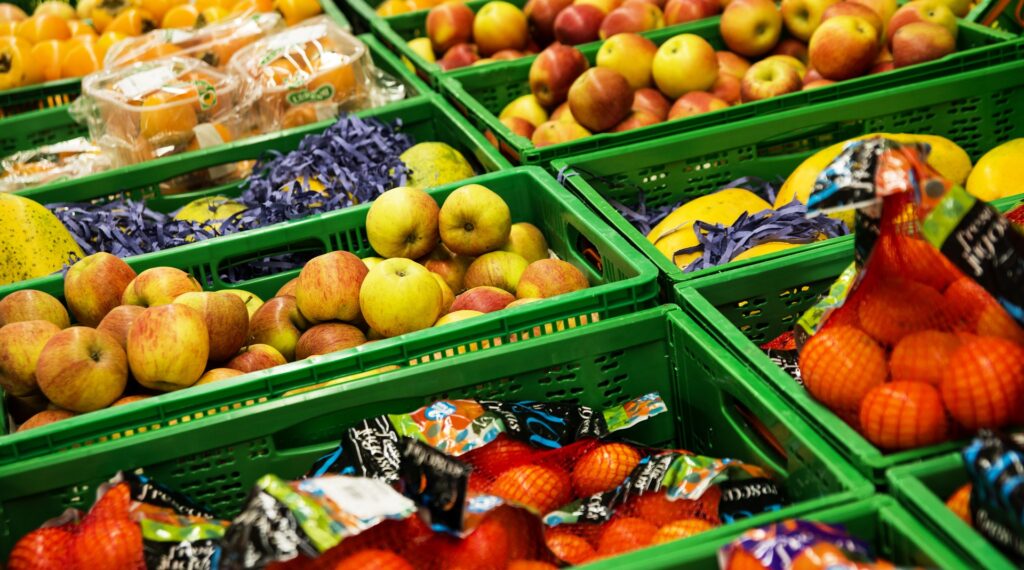 Delivery technology and the changing face of inventory management
The global Covid-19 pandemic gave way to a rise in demand for contactless grocery store delivery services. That said, the popularity of grocery delivery and contactless services is not expected to fade along with the effects of the pandemic.
Consumers all around the world have become accustomed to this way of purchasing groceries, so we can expect to see grocery retailers introduce what Qrius describe as "on-demand delivery engines within mobile apps". We could also start to see grocery companies working with third-party delivery services, and integrating this into the mobile app experience. This process is expected to keep grocery stores on top of consumer demands, while being able to track and manage their store inventory.
Tap-to-mobile payments already proving popular
Smartphones are already proving popular as a dynamic trend for grocery stores big and small. In February 2022, Apple offered some details on its Tap to Pay service for iPhone, which lets small and big businesses use iPhones to accept Apple Pay, credit, debit or digital wallets. All that is needed is a tap on the iPhone, in place of using hardware that can be expensive to acquire and assemble, especially for a small business.
For more tech stories click here
---
Join us at SIAL Paris as exhibitor Join us at SIAL Paris as visitor