ALCOHOL E-COMMERCE OPPORTUNITIES IN 4 ASIA-PACIFIC MARKETS
Led by high demand in China, the Asia-Pacific region has extensive growth possibilities in the alcohol e-commerce channel according to drinks analyst IWSR. Last year, online wine and spirits sales took off faster in other parts of the world due to the pandemic and its lockdowns, but Asia-Pacific growth was steadier due to existing strong e-commerce activity.
IWSR says that the region's overall growth is not predicted to be very high this year, precisely because it is a highly-penetrated market, but there are pockets of strength including the top market of China, plus Singapore, the Philippines and Australia.
China is currently the world's largest market for online alcohol sales – though the US is set to overtake it by end of 2021. For the past three years, alcohol e-commerce in China has grown at between 10% and 20% annually, driven by an increasingly affluent and connected middle class.
New drivers of online alcohol sales in China
"Online alcohol growth in China has been more subdued than in other markets such as the US, due to the existing high level of penetration," says IWSR. The company's data show that from 2019 to 2020, the value of China's alcohol e-commerce sector grew by approximately 20%, compared to about 80% for the US, where consumers are still new to buying liquor online. According to consumer research by IWSR, only 10% of Chinese spirits shoppers started buying online in 2020, while 46% said they started in 2017 or earlier. Therefore the market is quite mature compared with others.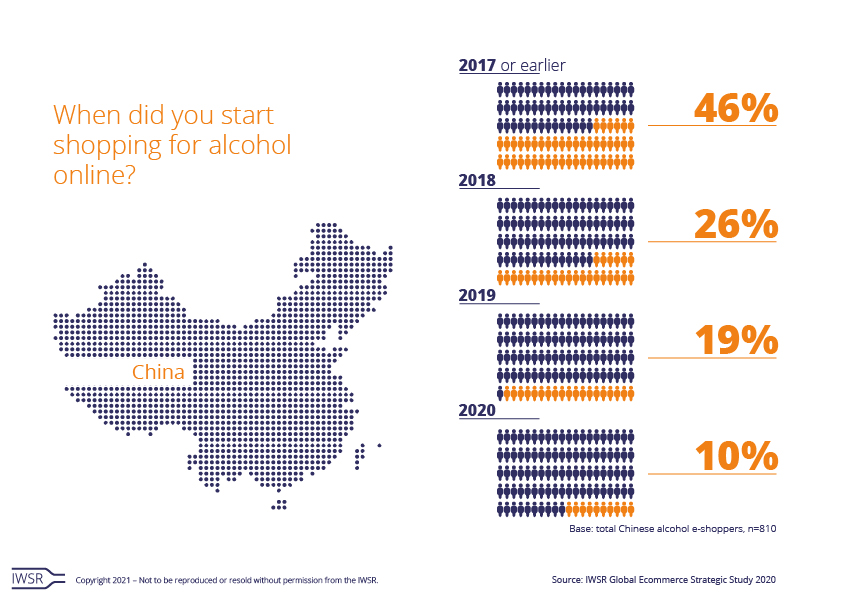 "China will continue to be a crucial market for online drinks sales, even if growth will not be as strong as in the US," says Sarah Campbell, research director at IWSR. "While the key marketplaces such as JD.com and Tmall.com [owned by Alibaba] will remain dominant, brand owners should keep a close eye on the development of 'new retail' stores, as these have the backing of some of the largest e-commerce players in the market."
Although baijiu – China's dominant spirits category – is driven more by the on-trade than online (less than 5% of the category's value sales are registered digitally), IWSR still expects steady growth in the online channel until 2024.
"Nuanced go-to-market strategies"
Elsewhere in Asia-Pacific, IWSR has identified the Philippines and Singapore as "markets to watch" based on predicted growth rates. The analysts says: "All categories are increasing quickly from a small base in the Philippines thanks to the rise of alcohol-focused online specialists."
An extra benefit to suppliers, from a profit margin perspective, is that the online channel in the Philippines puts a strong emphasis on higher-end products, since e-commerce is most accessible to wealthier city dwellers who are willing to pay for convenience and more product choice.
Meanwhile in Singapore much of the spirits culture in physical stores and online is premium orientated, though wine remains the dominant e-commerce category here. The premium-and-above segment performs as well online as offline due to a tax structure that incentivises higher-end alcohol.
"There are vast differences in alcohol e-commerce maturity across the APAC region, and each country requires nuanced go-to-market strategies," comments Guy Wolfe, strategic insights manager at IWSR. "Countries across the region have been boosted by the pandemic to varying degrees, with forecasts of future growth that offer opportunities for wine, spirits and beer brands."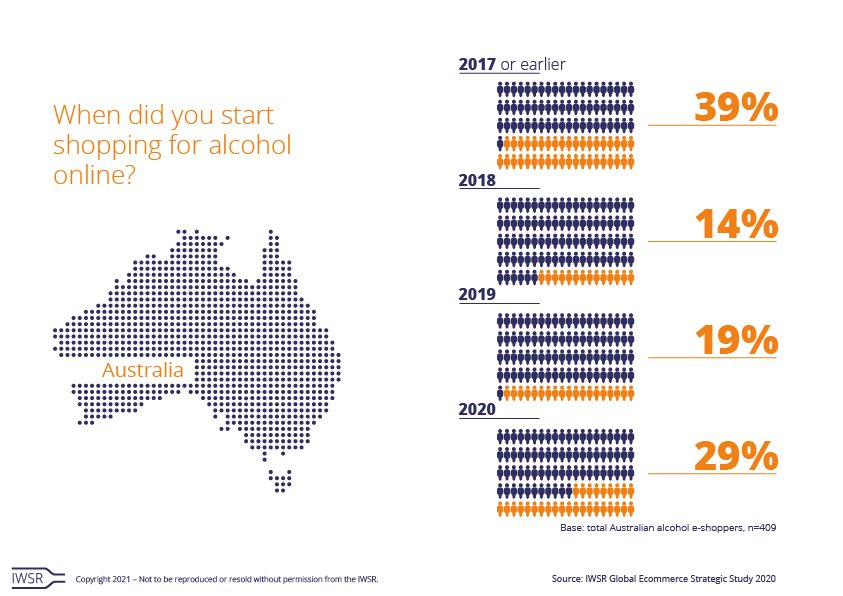 Alcohol in Japan and Australia
Like China, Japan is another market where consumers were accustomed to buying alcohol online pre-pandemic (85%) according to IWSR data – with 64% claiming to have done so in 2017 or earlier. However, more consumers started to buy alcohol online in 2020 versus 2019 (15% and 9% respectively), the reverse of China (10% and 19%), suggesting that there could be more e-commerce momentum from the Japanese.
Online sales penetration in Japan is moderate at less than 5% of total sales, implying room for growth. Consumers here are more conservative, however, so while online sales are rising, liquor buyers say they are more likely to buy trusted brands rather than experimenting with new ones – and they are also less likely to trade up in online environments.
In Australia, there has been a significant increase in the number of new alcohol e-commerce consumers. Some 29% say they started buying alcohol online in 2020 when very strict lockdowns were introduced and which are still re-emerging in places. From its survey, IWSR says that alcohol shoppers who bought online for the first time in 2020 are likely to buy more frequently (32%) than experienced e-shoppers (17%) although the latter group tends to buy more consistently (49%).
---
Join us at SIAL Paris as exhibitor Join us at SIAL Paris as visitor