DIAGEO POSTS GROWTH IN ALL REGIONS AS SALES JUMP 16%
Diageo, the owner of famous global alcohol brands like Guinness and Johnnie Walker grew its business across all regions by 15.8%, generating sales of just shy of £8 billion ($10.7 billion) in the half-year ending December 2021 (the first half of the company's fiscal year 2022).
The company, one of the world's largest drinks multinationals, saw strong double-digit growth in every region led by Latin America and Caribbean (+45%) and Europe (27%). The results mean that sales during the period exceeded the first half of fiscal 2019 (pre-pandemic) in all five regions, an encouraging sign for the wider beverage alcohol industry and a very different story to the first six months of 2021.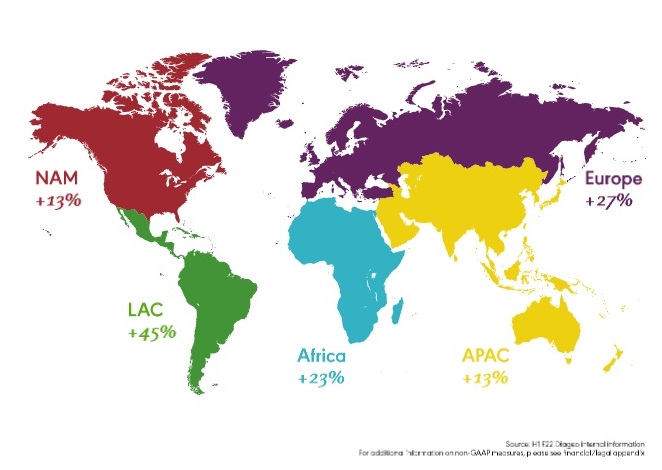 The sales rise reflected continued recovery in on-trade retail channels such as bars, restaurants and clubs, as these reopened after Covid restrictions lifted across many markets. There was also resilient consumer demand in the off-trade (such as supermarkets) underpinned by favourable industry trends of spirits taking share of total beverage alcohol, and premiumisation. Marketing efforts from the company also helped.
A broad-based portfolio has boosted Diageo
Diageo is a bellwether for the industry as it has about 200 brands in its vast portfolio and sells them in 180 countries at almost every price point. CEO, Ivan Menezes, said in a statement: "This performance reflects the strength of our portfolio across geographies, categories and price tiers. In the off-trade channel we have gained or held market share across the majority of our measured markets. We also benefited from the continued recovery of the on-trade channel, particularly in Europe and North America."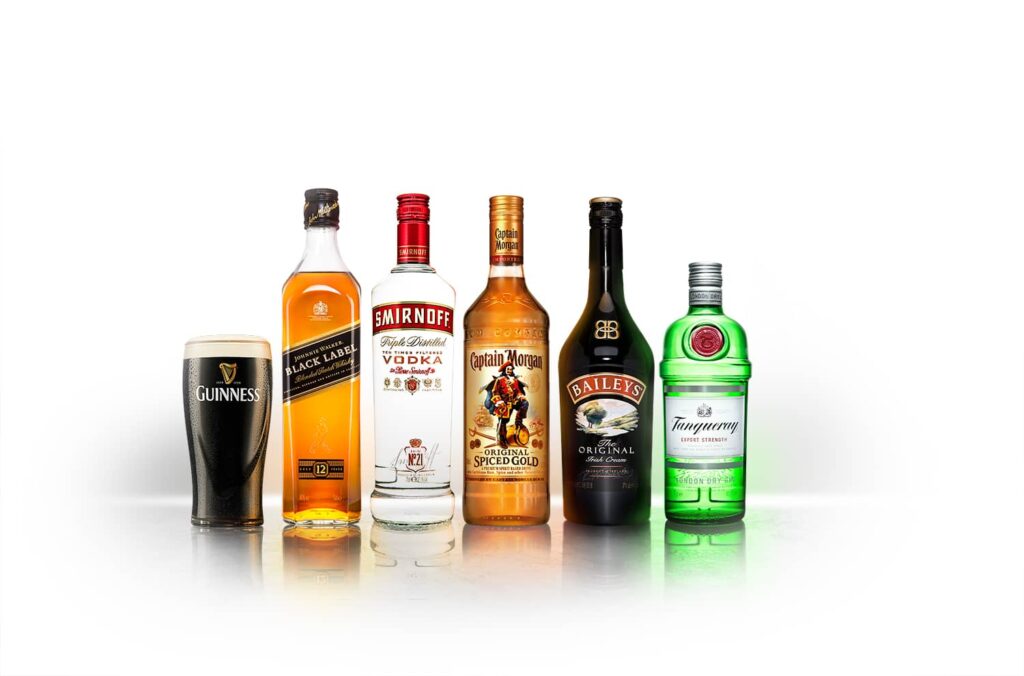 The drinks group's efforts on premiumisation also allowed it to drive up its operating margin. There was broad-based growth across most categories, with particularly strong performances for scotch, tequila and beer. Premium-plus brands contributed 56% of reported net sales and drove 74% of the overall sales growth.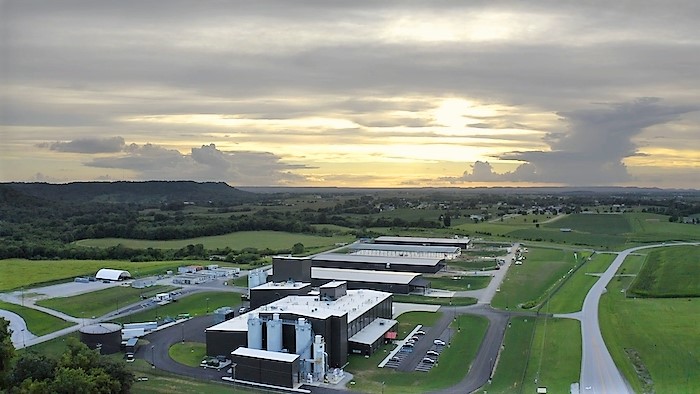 The margin gains came despite increasing marketing investment, in North America and Greater China in particular where, respectively, Diageo opened its first carbon-neutral whiskey distillery in Kentucky, and broke ground on another carbon-neutral distillery in China.
Menezes added: "Our focus on revenue growth management and productivity savings are helping to mitigate the impact of cost inflation." This is becoming an increasing worry across the entire food and drinks industry leading to price hikes.
Size matters
Though Diageo expects "near-term volatility to remain", including potential impacts from Covid-19, global supply chain constraints and inflation, the company's size has allowed it to expand production capacity, enhance its digital capabilities, and invest now for better times. These are all things smaller beverage alcohol companies can't do at the same scale.
Menezes added: "I am confident in our ability to successfully navigate disruptions through the remainder of the year. Over the medium-term, from fiscal 2023 to fiscal 2025, we continue to expect organic net sales to consistently grow within a range of 5% to 7% and organic operating profit to grow sustainably within a range of 6% to 9%."
The forecasts are confident, but Diageo still has to drive the current sales momentum through the second half of fiscal 2022 (ending June). This period laps a tougher comparator last year but the company looks well positioned to benefit from the resilience seen in the off-trade, and recovery in the on-trade, as worries about the Omicron variant appear to be easing in some markets.
Regionally Diageo expects North American demand to stay strong led by the popularity of tequila. Meanwhile in Europe – the company's biggest market – there are high hopes for the on-trade as pandemic restrictions ease. In Asia Pacific, Africa and Latin America and Caribbean, the company expects disruption related to Covid-19 to persist.
---
Join us at SIAL Paris as exhibitor Join us at SIAL Paris as visitor