MIXOLOGIST'S GARDEN BRINGS 6 NOVEL READY-MADE GARNISHES TO UK ON-TRADE
Cocktail bars, restaurants and drinks venues in the UK are being wooed by a new brand called Mixologist's Garden which has introduced six freeze-dried garnishes, designed to make the life of a mixologist, or even at-home cocktail maestros, easier.
The garnishes – ranging across three citrus lines (lime, lemon and orange) and three berry lines (strawberry, blueberry and raspberry) – come ready to serve in resealable packs and have ultra-long shelf lives.
Serial entrepreneur, Garry Stasiulevicuis, who heads up the brand, described it as a "game changer" because it takes the pressure off mixologists who can spend less time chopping up fruit and focus more on showing off their cocktail-making skills.
Consumers are more discerning
Stasiulevicuis added: "Covid led to a boom in drinking at home, with a huge rise in people searching for easy cocktail recipes online. Around 40% of consumers now say they want to make better quality drinks. The trend has also led to customers being more discerning when purchasing and consuming drinks in bars."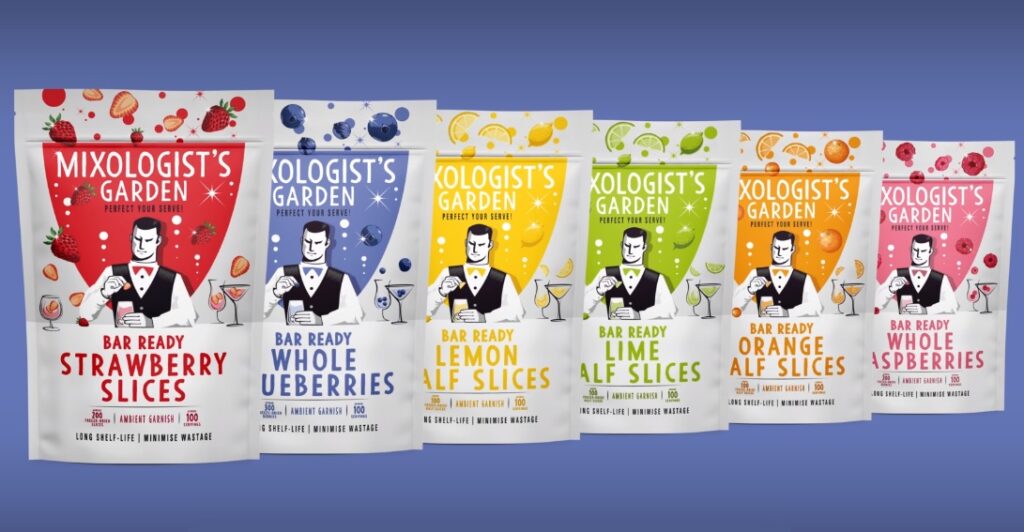 The garnishes – exclusively distributed by Molson Coors – are already being used in cocktails, soft drinks, ciders and beers in more than 1,000 bars in the UK. The brand is now being launched into travel markets for airlines and cruise ships to replace fresh fruit in drinks service.
Stasiulevicuis said: "Preparation time and cost is an issue. The availability and expense of fresh produce means that being able to consistently serve it is an issue, and to serve fruit at home usually means wasting produce. Without a prepared solution readily available, consumers tell us they just don't bother."
Sustainability built in
All the fruit in Mixologist's Garden products is 100% sourced in season and then processed, which means that fresh fruit is not being flown across the world, thus cutting food miles by 90% according to the brand. Additionally, transportation costs, versus actual fruits are reduced because the product is 90% lighter than fresh fruit, and can also be stored at ambient temperatures.
Mixologist's Garden also states that for a very high-capacity venue, for example a cruise ship, that serves 32,000 mixed drinks a week, switching to Mixologist's Garden would save 15 tonnes of weight being carried and more than 1,200kg of CO2 emissions per year. The fruit rehydration process takes around 30 seconds after the garnish has been immersed in a liquid ensuring that the flavours, colours and aromas are experienced quickly by the drinker.
Consumer-sized packs are being launched this autumn and other fruits are in development to extend the Mixologist's Garden range.
---
Join us at SIAL Paris as exhibitor Join us at SIAL Paris as visitor