PERNOD RICARD MAKES BIG STRATEGIC MOVES IN RUSSIA AND CANADA IN Q2
French alcoholic drinks giant Pernod Ricard has had a busy few weeks steering a careful course tapping both consumer buying and social sentiment activity with acquisitions and geographical changes.
On Monday, the company announced that Corby Spirit and Wine, which is majority owned by Pernod Ricard, will acquire a 90% stake in Ace Beverage Group (ABG), the largest independent player in Canada's fast-growing ready-to-drink (RTD) market.
Earlier in May the French group announced it will fully pulling out of Russia, and also invested in ecoSPIRITS, a circular economy technology startup, via its venture capital (VC) fund, Convivialité Ventures to scale up circular distribution system for premium wine and spirits.
Canadian expansion
Toronto-based, Corby is Canada's second largest marketer and distributor of spirits and wines. In addition to sales across Canada, the company's products are also exported for sale to the United States, Europe and other international markets. Corby's portfolio includes some well-known brands in Canada, including J.P. Wiser's, Lot No.40, Pike Creek, and Gooderham & Worts Canadian whiskies.
The ABG deal, with an enterprise value of is 165 million Canadian dollars, gives Corby a subsequent path to full ownership via two call options on the remaining shares, exercisable in 2025 and 2028.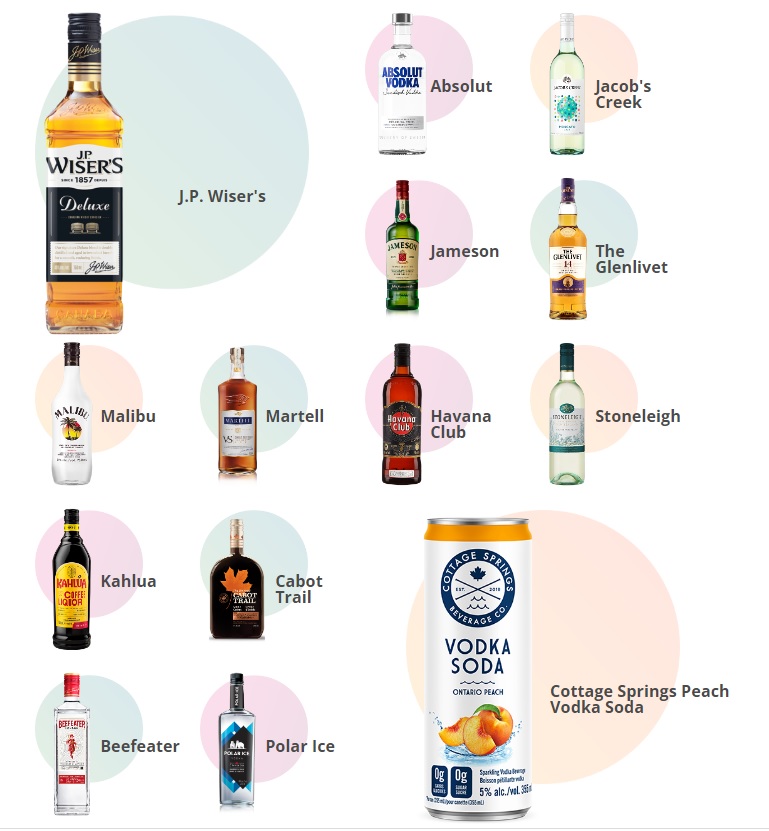 Established in 2020, through the merger of Cottage Springs (founded 2013) and Ace Hill (founded 2015), ABG has become a Canadian RTD leader. Its flagship brand Cottage Springs is the top RTD brand in Ontario, with bestselling products that include Cottage Springs Vodka Soda, Vodka Water and Tequila Soda. ABG also has a diversified portfolio of other brands such as, Ace Hill, Cabana Coast, and Liberty Village.
The acquisition enables Corby to add scale, as well as expertise and efficiencies in the Canadian RTD category. The country is a top global market for RTDs enjoying 20% year-on-year growth between 2016 and 2021. According to Pernod Ricard the category is expected to see double-digit rate increases in the coming years. On the flip side, ABG will benefit from Corby's extensive distribution network across Canada.
Cam McDonald, co-founder of ACG, said: "We are extremely proud of Ace's journey and accomplishments to date. We believe the combined expertise, experience and resources will help our businesses take the next step in our shared ambition of continuing to develop industry-leading beverages."
Nicolas Krantz, president and CEO of Corby, added: "Corby's sustained growth, as well as Pernod Ricard's, relies on our ability to bring even more exciting choices to our consumers, by continually expanding into promising categories. The RTD category is one example.
Pernod Ricard's global managing director of RTD & Convenience, Fredrik Syrén, commented: "With ABG, Corby becomes a key player in the Canadian RTD market, providing the scale and synergies needed in this category. It is aligned with our ambition of building a global RTD business and capture our fair share."
Ceasing Russian operations
While Pernod Ricard expands in Canada it is finally pulling out of Russia after some bad publicity in Sweden and public condemnation in April after the company tried to restart exports of Absolut Vodka.
By mid-May, Pernod Ricard released a statement confirming that it has stopped all exports of its international brands to Russia by the end of April 2023. "We will also cease the distribution of our portfolio in Russia, a process that we anticipate will take some months to complete," said the French drinks group. "We are assessing how to adapt our local organisation in light of these decisions, while fully complying with all local legal regulations."
Getting into the circular economy
Elsewhere, as part of a sustainability agenda, Pernod Ricard has invested in ecoSPIRITS via its VC fund, Convivialité Ventures in order to scale up circular distribution systems for premium wine and spirits.

The fund has taken a minority share in ecoSPIRITS which focuses on low-carbon, low-waste distribution systems for the drinks industry. By taking the stake, Pernod Ricard joined a $10 million Series A funding round along with New York-based circular economy investment fund, Closed Loop Partners, plus Asian and global investors including food sector private equity player, Proterra Asia; Singapore-based growth stage investor Pavilion Capital; and ecoSPIRITS' existing investor, Wavemaker Partners.
EcoSPIRITS' closed-loop distribution system is claimed to provide a powerful cost advantage and drastically reduces waste and carbon emissions by avoiding the production and transportation of glass bottles and other secondary packaging.
In March 2022, Pernod Ricard was one of the first global drinks companies to partner with the startup for the distribution of some of its premium brands in Hong Kong and Singapore. Absolut Vodka, Beefeater Gin, and Havana Club Rum are transported in bulk and delivered to hospitality venues using fully reusable 4.5-litre glass containers, thus reducing waste and carbon emissions resulting from the production and transportation of bottles and other secondary packaging.
The new funding will be used to strengthen ecoSPIRITS' market position and accelerate its research and development. It will also help the company to scale up its hardware, software and Internet-of-Things (IoT) programme, expand operations in certain markets worldwide, including the United States, and grow its regional customer and engineering teams in Miami, London, Singapore and Shanghai.
---
Join us at SIAL Paris as exhibitor Join us at SIAL Paris as visitor