Z Natural Foods introduces a nutritious chocolate milk powder
With a commitment to delivering nourishing ingredients and delectable flavours, Z Natural Foods has announced its latest addition – Chocolate Milk Powder
This new product is set to captivate chocolate lovers with its irresistible taste while providing a treasure trove of nutrition.
One of the remarkable aspects of Z Natural Foods' Chocolate Milk Powder is said to be its simplicity. It contains only three ingredients, making it a wholesome choice for those seeking a minimalistic approach to their diet. By eliminating unnecessary additives, the company says it ensures that its product is as pure as possible, allowing the natural flavours to shine through.
Another standout feature of Chocolate Milk Powder is supposedly its absence of added sugar. Z Natural Foods aims to reduce excess sugar intake, especially in a product that appeals to the sweet tooth. By relying on the inherent sweetness of high-quality ingredients, it has created a chocolate milk powder that satisfies cravings without compromising on health.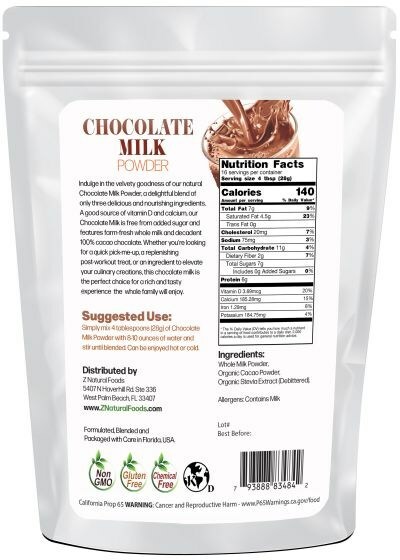 Unveiling the Nutritional Treasure
When it comes to nutrition, Z Natural Foods' Chocolate Milk Powder is crafted from raw cacao beans, the product offers an authentic and deep chocolate flavor that is both indulgent and guilt-free. The inclusion of whole milk further enhances its nutritional profile, making it an excellent choice for individuals seeking a wholesome beverage option.
Pricing and Packaging Options
To cater to various needs and preferences, Z Natural Foods offers Chocolate Milk Powder in three different quantities. Customers can choose from a 1lb. package priced at $12.99, a 5lb. package priced at $49.99, or the economical 55lb. bulk size, available for under $7.50 per lb. Regardless of the chosen quantity, the product is conveniently packaged in airtight, stand-up, resealable foil pouches, ensuring optimal freshness and ease of use.
A Pantry Staple
Combining the rich and beloved taste of chocolate with the convenience of a powdered form, Chocolate Milk Powder aims to become a pantry staple for a wide range of individuals. The company believes families can delight in a delicious treat while knowing they are providing their loved ones with a nutritious beverage option. It also hopes fitness enthusiasts can enjoy a post-workout protein-packed chocolate shake, and chocolate lovers can indulge in a guilt-free pleasure that "tantalises" their taste buds.
Z Natural Foods chocolate milk powder is a testament to its commitment to providing premium natural foods and superfoods. With its exceptional taste, minimal ingredient list, and nutritional benefits, this new product aims to revolutionise the way we enjoy chocolate milk. Discover the blend of flavour and nutrition with Z Natural Foods Chocolate Milk Powder and embark on a "truly indulgent and nourishing" experience.
Read also : Fresh Up Your Life! campaign: promoting fresh and healthy products
---
Join us at SIAL Paris as exhibitor Join us at SIAL Paris as visitor