COCA-COLA AND MOLSON COORS TO TEAM UP ON NEW SIMPLY SPIKED LEMONADE LAUNCH
Coca-Cola and Molson Coors have expanded their exclusive agreement to release a line of alcoholic beverages inspired by America's top chilled juice brand Simply.
The deal is another milestone in the relationship between Coca-Cola and Molson Coors after a successful first year for Topo Chico Hard Seltzer.
Now their latest endeavour Simply Spiked Lemonade is set to hit US shelves this summer featuring four bold, refreshing flavours with real fruit juice
The brand will launch with a variety 12-pack inspired by some of the best selling nonalcoholic Simply products including Signature Lemonade, Strawberry Lemonade, Blueberry Lemonade and Watermelon Lemonade.
Molson Coors recently announced that this year it is also rolling out Topo Chico Hard Seltzer across the US after a promising launch in nine states in 2021 and a new line extension Topo Chico Hard Seltzer Ranch Water.
Chief marketing officer Michelle St Jacques said: "Over the past two years, we've seen success by shaking up existing categories with new brands that have clear, compelling points of difference, like Coca-Cola's Topo Chico Hard Seltzer, Vizzy Hard Seltzer and ZOA Energy Drink.
"Now, we have a huge opportunity to leverage the power of Simply, a brand known for real juice and big flavour, to disrupt the full-flavour alcohol segment in a way that's never been done before."
The Simply Spiked Lemonade variety pack will present as 12-oz. slim cans with select flavours also available in single 24-oz. cans.
All 170-calorie varieties of Simply Spiked Lemonade contain 5% alcohol by volume (ABV).
The Coca‑Cola Company's North America Operating Unit will sell beverage base to Molson Coors, which will produce, distribute and market the premium, ready-to-drink Simply Spiked Lemonade brand.
Simply is The Coca‑Cola Company's second-largest brand based on net revenue in the US, behind Coca‑Cola, and Simply beverages are found in half of all American households.
The Simply Spiked Lemonade concept was inspired by the popularity of Simply juices and ades as cocktail mixers.
The brand's fresh, great-tasting flavours pair seamlessly with alcohol.
For Molson Coors, the brand represents "a huge opportunity. There's nothing in the market quite like it, which is really exciting," says Jamie Wideman, vice president of innovation for Molson Coors.
Simply Spiked Lemonade™ brings something new to the FAB category, which has continued to grow year-over-year into a nearly $2 billion segment, with full-flavored products and innovation leading the charge.
Dan White, chief of new revenue streams at Coca‑Cola's North America operating unit, said: "The Coca‑Cola Company and Molson Coors have a thriving relationship in North America.
"The proof is in the success of Topo Chico Hard Seltzer's national expansion and the introduction of Topo Chico Hard Seltzer Ranch Water.
"With this momentum, we are excited to expand our relationship with products inspired by another one of our most valuable brands, Simply.
"We believe people will be excited to try this delicious beverage when it arrives on shelves later this year."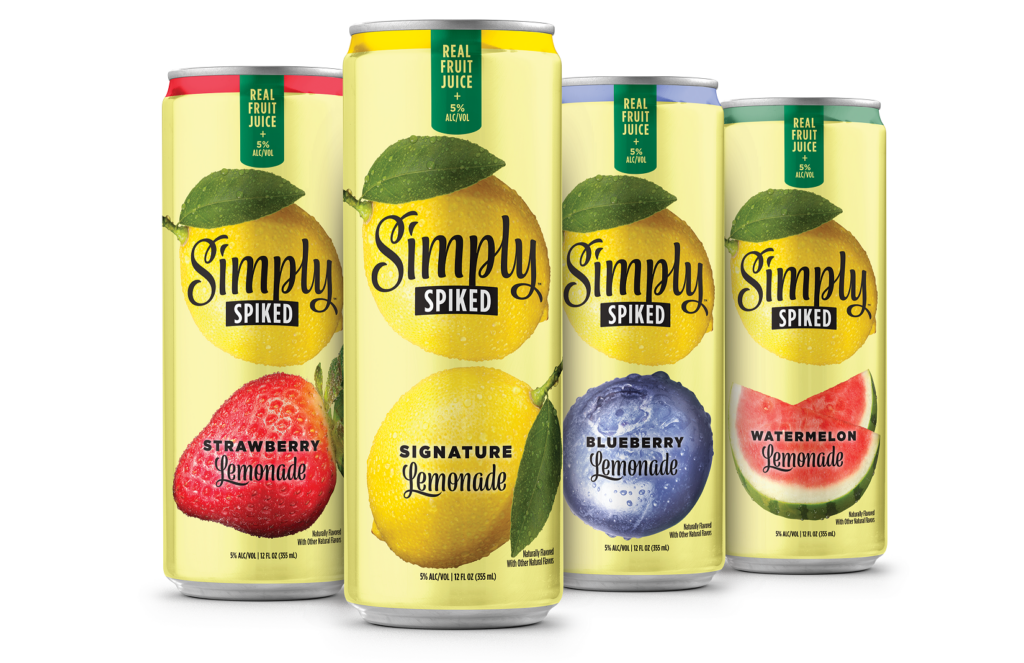 About the Coca-Cola company
The Coca-Cola Company is a total beverage company with products sold in more than 200 countries and territories.
It sells multiple billion-dollar brands across several beverage categories worldwide with a portfolio of sparkling soft drink brands including Coca-Cola, Sprite and Fanta.
The company's hydration, sports, coffee and tea brands include Dasani, smartwater, vitaminwater, Topo Chico, BODYARMOR, Powerade, Costa, Georgia, Gold Peak, Honest and Ayataka.
It also owns nutrition, juice, dairy and plant-based beverage brands include Minute Maid, Simply, innocent, Del Valle, fairlife and AdeS.
About Molson Coors Beverage Company
Molson Coors has been brewing beverages for more than two centuries .
Brands include Coors Light, Miller Lite, Molson Canadian, Carling, Staropramen, Coors Banquet, Blue Moon Belgian White, Leinenkugel's Summer Shandy, and Creemore Springs.
While the company's history is rooted in beer, it also offers a modern portfolio that expands beyond the beer aisle with sparkling cocktails, canned wine, kombucha, cider and more.
Molson Coors Beverage Company is a publicly traded company that operates through Molson Coors North America and Molson Coors Europe and is traded on the New York and Canadian Stock Exchange (TAP).
---
Join us at SIAL Paris as exhibitor Join us at SIAL Paris as visitor