THE 19TH EDITION OF SIAL CANADA BRANDED A SUCCESS BY SHOW ORGANISERS
The 19th edition of the International Food Show, SIAL Canada, took place from April 20 to 22 at the Palais des Congrès de Montréal.
Despite two years of the global pandemic, SIAL Canada once again presented itself as the must-see show for the agri-food industry in Canada.
This year's event featured 809 exhibitors and brands from 49 countries spread over ​​220,000 square feet of exhibition space and nearly 15,000 professional visitors from 57 countries.
More than 1,300 people gathered in the 36 conferences and 36 workshops offered during the show. Among the themes discussed were traceability, branded content and sustainable packaging.
The event began with the official inauguration attended by a number of national dignitaries including the Minister of Agriculture, Fisheries and Food of Quebec, André Lamontagne.
A look back at SIAL Canada's four major competitions
The SIAL Innovation award was presented on the first day of the event at the SIAL Innovation space. More than 40 businesses applied, and among the recognised was Groundup Eco-Ventures, which was awarded the major prize for its line of flours and cooking mixes made from upcycled ingredients.
The Pitch Competition occurred on the second day of SIAL Canada. Participants had just three minutes to entice the jury, in Food & Beverage and Technology & Service categories. Prevu3D took home the latter award, thanks to its state-of-the-art software. By 2048 took home the former award, by offering exceptional and unique plant-based seafood products.
Christine Cheylan chaired the 16th edition of the Golden Olive competition. The 16 best extra virgin olive oil products were selected from producers around the world, with specific categories like "Light" and "Intense". Two special Bio and Design prizes were also awarded, recognising nearly 80 olive oils from 15 different countries.
Building on its success in 2019 in Toronto, the second International Cheese Competition also returned to SIAL Canada. Avonlea Clothbound Cheddar and a PEI cheese from COWS Creamery were among the prizewinning products, awarded by a jury chaired by Gurth Pretty and made up of 14 cheese industry professionals.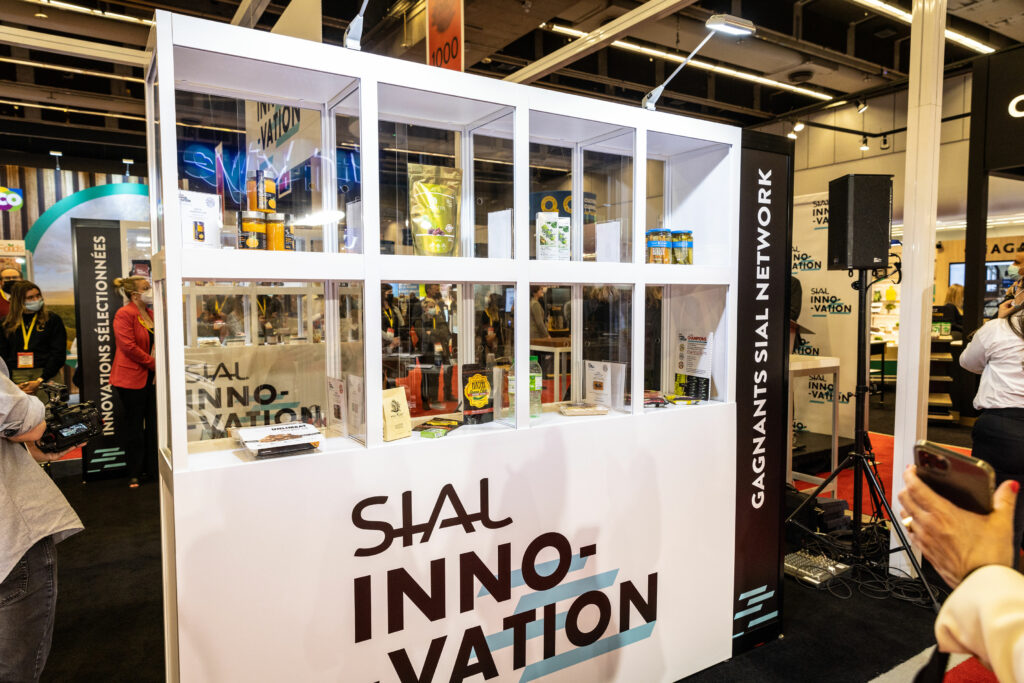 Standout activities from SIAL Canada 2022
La Cuisine by SIAL was one of the standout features from SIAL Canada 2022. The essential living space hosted daily events, including the first day's dedicated showcase of catering and commercial cooking. A presentation of US seasonal fruits featured on the second day, while the third day saw events centred around catering and commercial cooking.
The second and third day of SIAL Canada featured various cheese tasting workshops, with cheeses paired with other local products such as beer, kombucha and maple in all its forms. Cheese expert Gurth Pretty led workshops, along with a roundtable centred around innovation.
The Inspire Drink space chiefly showcased coffee and alcoholic (and non-alcoholic) beverages. La Nouvelle Vague Café presented sensory workshops devoted to specialty coffees, with assistance from David Boucher, roaster at Escape Coffee Roasters. Mixology expert Jean-Sébastien Michel and his Alambika team were there to offer a cocktail masterclass.
Unprecedented at SIAL Canada, the 19th edition of the show featured a space dedicated to the production of podcasts, hosted by The Food Professor. Dr. Sylvain Charlebois, senior director of Dalhousie University's food analysis laboratory. Michael LeBlanc, host of the Voice of Retail podcast, also assisted in discussions.
The buyers program continues to be a success
The buyer's program again posted spectacular figures this year with 716 meetings
recorded over the three days of the show. This space brought together 87 buyers from 14 different countries and 356 exhibitors from 39 countries. It has been reported that two thirds of exhibitors believe their meeting will lead to a sale and 100% of buyers expressed their wish to return to the program next year.
---
Join us at SIAL Paris as exhibitor Join us at SIAL Paris as visitor