TESCO REAFFIRMS POSITION ON MULTIBUYS TO SUPPORT HEALTH AND CUT FOOD WASTE
The UK's biggest supermarket group, Tesco, has pledged to continue with its voluntary commitment not to sell high in fat, salt or sugar (HFSS) food items through volume-led promotions, as part of ongoing plans to help customers eat more healthily, and to stop food being unnecessarily wasted in consumers' homes.
The British government has dithered on plans to restrict multibuy deals like 'buy one get one free' (BOGOFs) on foods. Its latest announcement said that new measure to curb this kind of promotion would be delayed until 2025. Prime minster, Rishi Sunak, said: "I firmly believe in people's right to choose – and at a time when household budgets are under continuing pressure from the global rise in food prices, it is not fair for government to restrict the options available to consumers."
In the past, charities like Oxfam have criticised BOGOF supermarket deals, claiming that they encourage consumers to buy more food than they need and then see it go to waste at home. Tesco has confirmed that it will continue to keep volume-led promotions on HFSS products off its shelves (excluding Christmas party food and some frozen food deals, both of which are less like to lead to wastage).
Value, not volume
The supermarket chain with a 27.1% market share in the UK (source: Kantar), said it would still have good deals despite not using volume promotions. Tesco Group's chief product officer Ashwin Prasad said: "Tesco will continue to offer great value on products across the entire store, so customers won't have to purchase more food than they need. Our mission is to make Tesco the easiest place to shop for a healthy, more sustainable basket – while keeping the cost of the weekly shop in check."
Household are struggling and, well before the pandemic, Tesco had been forced to become more competitive against discounters like Lidl and Aldi. In response, this year, Tesco has further increased its Aldi Price Match campaign to around 700 products, and price-locked over 1,000 products at 'low everyday prices' while extending its loyalty card special deals to over 8,000 lines.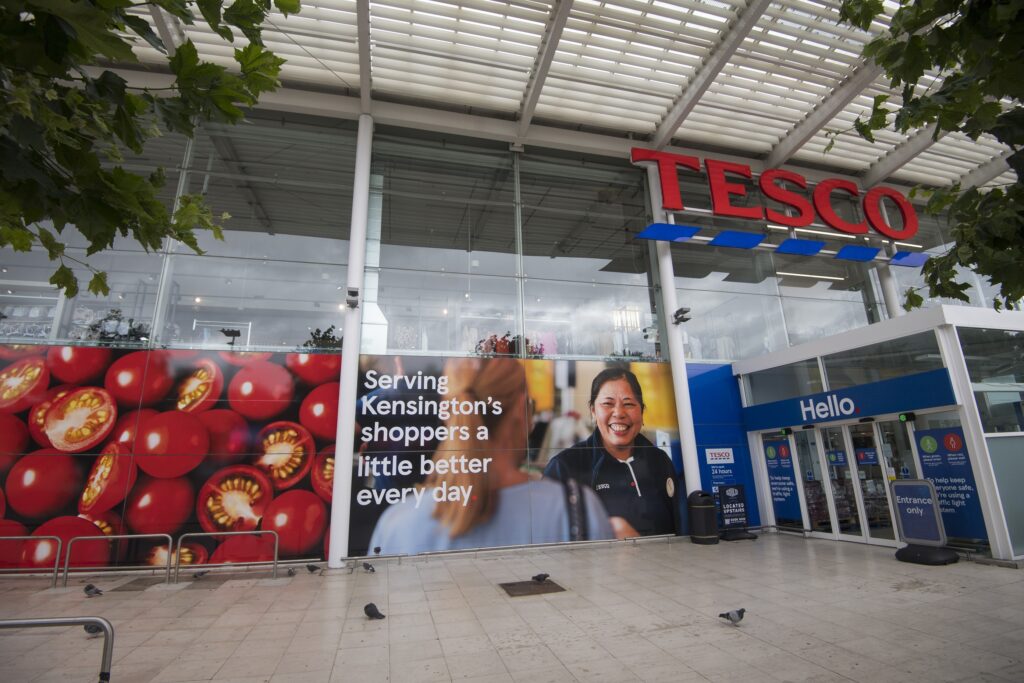 Cancer Research UK's CEO Michelle Mitchell, said: "We welcome the news that, despite further delays from the UK government, Tesco has pushed ahead with restrictions on HFSS price promotions in its stores. Our research shows that many people intend to make healthier choices when they shop, but they struggle to do so in practice.
"The wider research is clear that multi-buy promotions can increase the total amount of household food and drink purchased by around 20%. We hope that the UK government and other supermarkets will follow suit and make decisions that will make a positive contribution towards people's health and wallets. Obesity causes 13 different types of cancer, so we need to see bold action to improve the nation's health."
At the British Heart Foundation, director of policy John Maingay, added: "We warmly welcome Tesco's commitment to restrict multi-buy promotions of unhealthy products, despite delays on regulations to mandate this across the retail sector. This shows bold industry leadership (and) we hope others in the sector will follow their lead."
Partnering with suppliers
While there has been a focus on health with the Tesco campaign, reduced food waste will also be a benefit. Most supermarkets have been trying to cut food waste at their end, less so on the consumer side. Tesco has worked in partnership with its suppliers and cut more than 200,000 tonnes of food waste from their combined operations by 2020.
Today, Tesco has reduced overall food waste in its operations by 45% since 2016/17 and says it is making good progress toward reducing food waste. The company claims that just 0.35% of the food handled across the group in 2022/23 ended up as waste.
The combined effects of climate change and Covid-19 have made tackling food waste more urgent than ever, according to Tesco and members of global coalition, Champions 12.3. The organisation works in support of UN Sustainable Development Goal Target 12.3 to halve global food waste by 2030. In light of Tesco's efforts and ongoing changes to meet this goal, Tesco now aims to halve food waste in its operations by 2025, five years earlier than the global target.
---
Join us at SIAL Paris as exhibitor Join us at SIAL Paris as visitor