UK INSECT FARM START-UP BETTER ORIGIN RAISES £12M INVESTMENT TO BOOST GROWTH
Better Origin, the UK insect mini-farm start-up, has secured £12 million (€14.5m) in investments which the firm will use to grow its business and scale-up internationally.
This was the company's first major venture capital funding round and was led by Balderton Capital. Existing investors Fly Ventures and Metavallon VC also participated.
Better Origin is a company which uses insects – namely black soldier flies – and expiring fruit and vegetables to create sustainable, and more nutritious animal feed, as it is rich in protein and other key nutrients.
Using AI and automation to create the optimal environment for this cycle to flourish, Better Origin produces black soldier fly larvae, which can be fed to the farm's animals. Cameras, computer vision and sensors monitor the conditions within each mini-farm to make sure they are optimal for production.
Better Origin's business model is based around moving animal feed production onto the farms that consume the food, the company says. This is said to reduce feed consumption costs and lowers emissions while boosting productivity for the farmer.
With these so-called 'mini farms' the brand says its mission is to "fix the broken food chain", by mitigating food waste and saving land from deforestation by offering a sustainable alternative to soy. Insects need far less water and land than conventional feeds like soy. They can also be grown directly on a farm, saving over 574 tonnes of CO₂ emissions a year, the company claims.
In December, Better Origin signed a deal to supply 10 insect mini-farms to feed chickens at UK supermarket giant Morrisons' egg farms. The company figures it is on track to save 5,700 tons of CO2 emissions per year.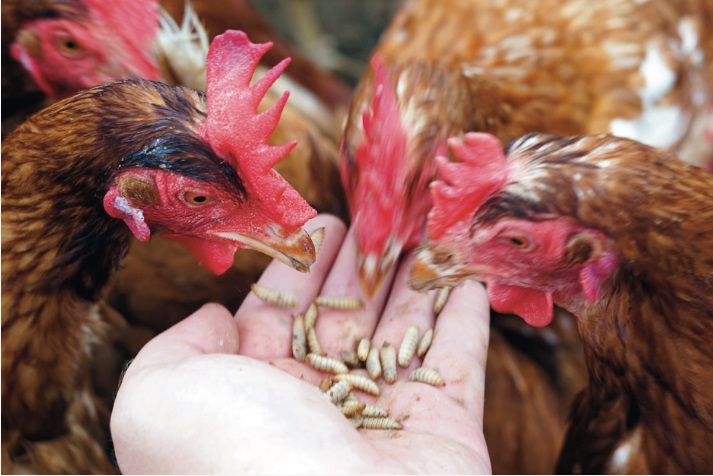 The company currently has five mini-farms up and running, but is planning to grow rapidly over the next year.
Outlining the company's growth ambitions, Better Origin CEO and co-founder Fotis Fotiadis said: "I'm hoping that if one thing goes according to plan we should have 20 ordered in the next couple of months."
"We started working on this five years ago. Things have evolved a lot and with the purpose and the whole mission of the company. I believe that our generation will have to solve one of the biggest challenges as we come along: 'How can we produce food to feed the population in a sustainable and secure way?' One of the biggest problems to achieving that is globalisation. And what I mean by that is that we have such a global food supply chain that structurally is broken, because it's not sustainable."
The company points out that you can pick pretty much any product you want in a supermarket, and there's very little produced locally, noting that most animal feed comes from South America.
Fotiadis continued: "We make the food supply chain local, and we need a new ingredient to do that. Our belief is that using food waste, is this new ingredient. Food waste occurs everywhere; it is local and there are a lot of hidden nutrients in there.
"Our technology can take any sort of waste and convert that into food. We have built automated factories in shipping containers. You put food waste in one end and you feed that to insects. The insects grow and you feed those insects to animals. Because these systems are in shipping containers, they can be deployed in all sorts of parts of the supply chain."
Suranga Chandratillake, general partner at Balderton Capital, added: "Fotis, Miha [Pipan, CSO] and the Better Origin team are working to fundamentally change our broken food chain, for the benefit of everyone. Climate change, the pandemic, political tensions and our growing population have demonstrated time and again how fragile our current systems are. They've also shown how farming currently exacerbates the challenges we face and solutions so far are not leading to the wholesale change we need. Better Origin presents a new approach and we believe it can have a transformational effect on food and farming systems."
For more trade talk, click here.
---
Join us at SIAL Paris as exhibitor Join us at SIAL Paris as visitor