Unilever offers fresh insights with first Future Menu Trends report
Under its Food Solutions branch, Unilever launched its first Future Menu Trends report which was developed in collaboration with more than 1,600 chefs in over 21 countries.
The global consumer products giant released its Future Menu Trends report 2023 during an event for leading chefs and food industry experts at Hive, its Foods Innovation Centre in Wageningen, Netherlands.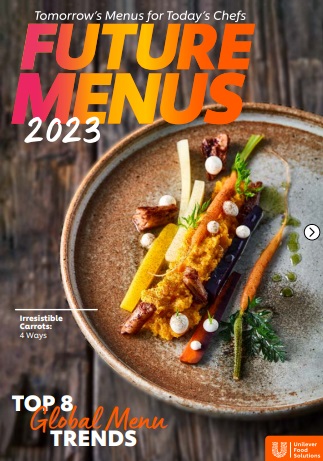 As part of the research, Unilever examined 178 trend report sources, analysing 44,000 "food occasions", from more than 15 countries. The team identified four "megatrends" including Conscious Choices, Healthier Living, Cooking Renaissance and, Indulgent Experiences. From this, Unilever extrapolated a further eight mega trends, including Modern Comfort Food, Irresistible Vegetables, Wild & Pure, Flavour Contrasts, Feel-Good Food, The New Sharing, Mindful Proteins, and Low-Waste Menus.

Using these trends as inspiration, the Future Menus team of collaborating chefs have come up with recipes from around the world, with fun and innovative dishes including Mezze Maze, Dropped Moussaka, Vegan Doner Kebab, Salmon Katsu with Thai Spicy Wasabi Dressing & Shoyu Mayonnaise by Jiraroj Navanukroh, Saltbush Gnocchi with Warrigal Greens and Pork Belly with Nettle Purée & Pine Oil.
According to the report, with its Future Menu's project, Unilever hopes to see an increased opportunity for more nutritious and sustainable ingredients, lower carbon footprint, and culinary techniques that bring out the best flavour in every dish, all while providing a balance of tasty indulgences. This also helps to play a key role in improving diets through more positive nutrition and reducing the environmental impact of the global food chain.
Hanneke Faber, President of Nutrition Unilever, said: "Identifying the hottest global trends is critical in our quest to provide solutions for chefs who are contending with challenges ranging from labour shortages to tackling sustainability issues like food waste. With the release of the Future Menus Trend report, Unilever Food Solutions is not just sharing future trends, but also offering solutions-based insights and adaptable recipes to inspire chefs and help them feel prepared for the future."

Making sustainable choices
In other sustainable news, Unilever has partnered with one of the world's leading behavioural science institutions to research the role social media content plays in encouraging people to make sustainable choices.
In what is said to be the first large-scale, rigorous online trial of its kind, Unilever brands Dove and Hellmann's worked with the Behavioural Insights Team (BIT) and a group of nine influential creators from TikTok and Instagram, commissioning 30 pieces of inspiring social content about sustainability. These were then tested by BIT to measure their impact on consumers.
The created content was shown to 6,000 participants from across the three geographical test markets – the U.K, the U.S and Canada, and it broken down into branded and non-branded material and framed as either 'climate pragmatist' or 'climate optimist' in tone, Unilever said.
Pragmatic content made heavy use of data and statistics, placed an emphasis on the scale of problematic behaviour and highlighted wide-ranging and far-away consequences. Optimistic content gave practical demonstrations of how to live sustainably, emphasised benefits to the individual and often took a humorous or unexpected tone. Alongside this, a stream of neutral content, with no mention of sustainability, was also included within the test materials.
After viewing the content, the participants were asked a series of questions to ascertain whether it had affected their intentions to change their behaviour. Two weeks later, 2,500 reported back on whether they had acted upon these intentions or not.
According to Unilever, 75% of participants said the content made them more likely to adopt sustainable behaviours, from saving and reusing plastic or buying refillable products to freezing and reusing leftovers.
When measuring actual behaviour change, the study showed that people valued both facts and practical advice. Almost 70% of people shown 'pragmatic' content tried something new to reduce their plastic or food waste after watching, as did 61% who watched the 'optimistic' content.
For more trade talk, click here.
---
Join us at SIAL Paris as exhibitor Join us at SIAL Paris as visitor