YUM CHINA'S 'GREEN PIONEER' KFC STORES IN HANGZHOU AND BEIJING CUT EMISSIONS BY 15%
Yum China Holdings has launched KFC's first 'green pioneer' stores in Hangzhou and Beijing as part of the group's roadmap towards reaching net-zero greenhouse gas (GHG) emissions in its value chain by 2050.
"We are committed to being net-zero pioneers in the restaurant industry," said Joey Wat, CEO of Yum China. "We will continue to explore utilisation of innovative technologies in restaurant construction and operations to promote sustainable development as well as contribute to the low-carbon economy."
KFC has already integrated energy saving, emissions reduction, plastic reduction, and other environmental measures in its stores across the country. 'Green pioneer' stores utilise advanced low-carbon technologies in their construction and daily operations. Compared with the average emissions of KFC stores in 2020, these new ones are expected to further reduce GHG output by approximately 15% per year.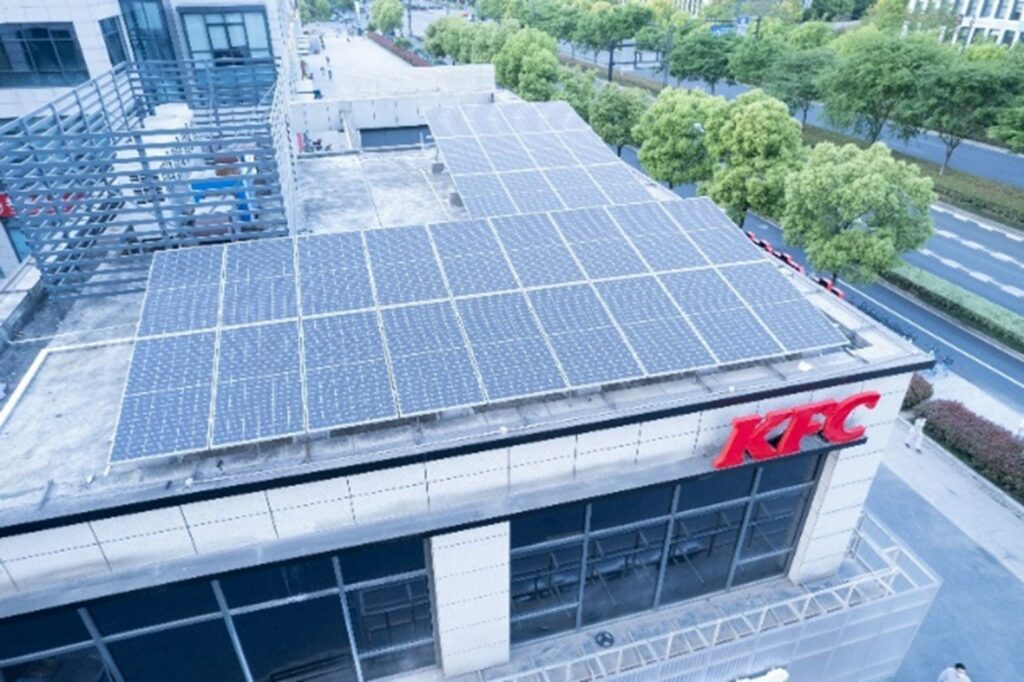 How Yum China has gone green
Five key elements will contribute to the reduction:
Renewable energy/solar power: In Hangzhou, solar panels on the roof of the store generate about 10,000 kWh every year supported by an advanced power storage system.
Internet of Things-based intelligent energy management: This system improves the energy efficiency of 'green pioneer' stores, through the use of IoT, big data and artificial intelligence to cut consumption by about 10% per year.
Natural lighting: The new stores are equipped with Tubular Daylighting, to maximise natural light.
Solar energy powered outdoor umbrellas: Using integrated solar panels, the umbrellas generate electricity for nighttime use.
New materials: Recycled ceramic floor tiles, low-carbon bamboo, and leather alternatives made from recycled coffee grounds, are applied in the store construction and furniture.
Since 2017, 100% of new-build KFC restaurants in China comply with Yum China's Green Building Standards, from environmentally friendly materials and indoor air quality to thermal comfort controls. The company has also continuously upgraded equipment and facilities with advanced technologies to promote the digitisation, automation and intelligence of its stores.
---
Join us at SIAL Paris as exhibitor Join us at SIAL Paris as visitor