LITTLE FREDDIE LAUNCHES UK'S FIRST RECYCLABLE FOOD POUCH
Baby food brand Little Freddie has announced the launch of the UK's first ever pre-packaged food pouch that is recyclable through normal household recycling.
The announcement follows several years of testing and trialling alternative packaging materials, resulting in this successful attempt – a pouch made from one (mono) material called polypropylene.
Assessed by the On-Pack Recycling Label (OPRL) scheme to meet the requirements of their 'Recycle' designation, these pouches will carry a recycle label, meaning they can be accepted by kerbside recycling, Little Freddie said in a statement.
The company described the development as a "momentous step", which provides a simple and convenient method of disposal for parents.
"Over the next 12 months, we hope to save over 350,000 pouches from landfill, equivalent of 2.5 tonnes of plastic!" the brand continued.
This new packaging forms part of Little Freddie's sustainability strategy – 'The Big Green Plan' – committing the brand to ensuring that all its packaging is 100% recyclable, reusable or compostable by 2025.
A major step towards achieving this is our launch of the UK's first mono material pouch designed to be fully recyclable (with the cap on), which is not only lighter to transport but also less carbon intensive to create!
In addition to the new packaging, Little Freddie will continue its recycling initiative with Enval which allows consumers to send return their used packaging for recycling. The company initially launched this return recycling scheme it provided a zero-waste option when no other 'home-recycling' solution was available.
Consumers can find recycling bags on its 'PRODUCTS' page.
These fully recyclable products also feature a verified climate footprint by CarbonCloud to help consumers make more informed eco-conscious decisions. With the help of CarbonCloud, all of the greenhouse gases emitted during the 'farm-to-shelf' journey have been calculated and presented as a climate footprint, the company added.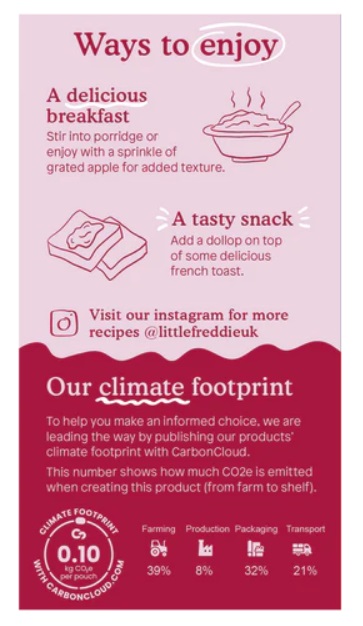 Little Freddie says it is the first baby food brand in the world to go climate transparent – listing its Climate footprint on its packaging. The company says it hopes to raise awareness of the environmental impact of food and support parents who want to understand and reduce their 'food footprint'.
Those interested can learn more about Little Freddie's climate transparency journey in its 'Your climate footprint questions answered' blog, and can also follow on its Instagram page – @littlefreddieuk.
The company said in a statement: "We intend to roll-out both the fully recyclable pouch and climate labels across our entire UK pouch range in the coming years. We hope to inspire other brands, not only in the baby food sector, but within the flexible packaging industry to join them in adopting recyclable pouches as well as quantifying their climate footprints."
Alice Harlock, Membership & Services Manager at OPRL added: "We're thrilled to see Little Freddie launch the very first baby food pouch which has gone through stringent testing to achieve our Certified As Recyclable marque. As a result, it carries our 'Recycle – Cap On' label which makes recycling much easier for busy parents by adding these pouches to home recycling collections and preventing them from ending up in landfill. This innovation is a fine example of brands helping their customers to do the right thing by making recycling simple."
The first two flavours to launch with the new packaging will be 'Super Strawberries & Bananas', which is said to contain 30% less sugar on average than the leading brand, and 'Mighty Mango & Passionfruit', which is made from Alphonso mango. They are suitable for babies 6m+ and are available in a multipack, using FSC certified cardboard and are printed using eco-friendly vegetable-based inks. They will be available in Sainsbury's and Ocado in the coming weeks.
For more stories on packaging, click here
---
Join us at SIAL Paris as exhibitor Join us at SIAL Paris as visitor