WILLOW TO DEVELOP INGREDIENTS FOR AGE-RELATED DISEASES AND FOR DRINKS MARKET BY 2024
Biotechnology company Willow Biosciences has tied up deals to target age-related illnesses and to develop an enzyme for use in the biocatalytic production of a new, advanced ingredient that can be used in natural beverage applications.
In both cases, the US-based company, which focuses on revolutionising industrial manufacturing of pure, consistent and sustainable functional ingredients, will launch the partnerships by executing a master services agreement (MSA).
In the case of age-related diseases the partner company, another biotech player has not been named. In a statement, Willow said: "Due to the disruptive potential nature of its targeted product applications, the partner's name and target molecules are not being disclosed at this time."
Willow will work with the company to develop precision fermentation processes for a class of molecules with the aiming of formulating nutritional supplements for health and wellness and active pharmaceutical ingredients (APIs).
Yeast-strain engineering
The company will use its trade-marked FutureGrown technology platform and yeast-strain engineering expertise with the goal of developing a strain and process for production of the partner's ingredients. FutureGrown is a fully integrated solution for rapid enzyme and strain engineering, process development, and scaled-up manufacturing that incorporates the latest technologies for precision fermentation.
"After a successful first phase, both parties anticipate the next steps will be a full process optimisation programme and entering into a commercial agreement for scaling up the targeted ingredients for use in consumer end-market products," Willow noted.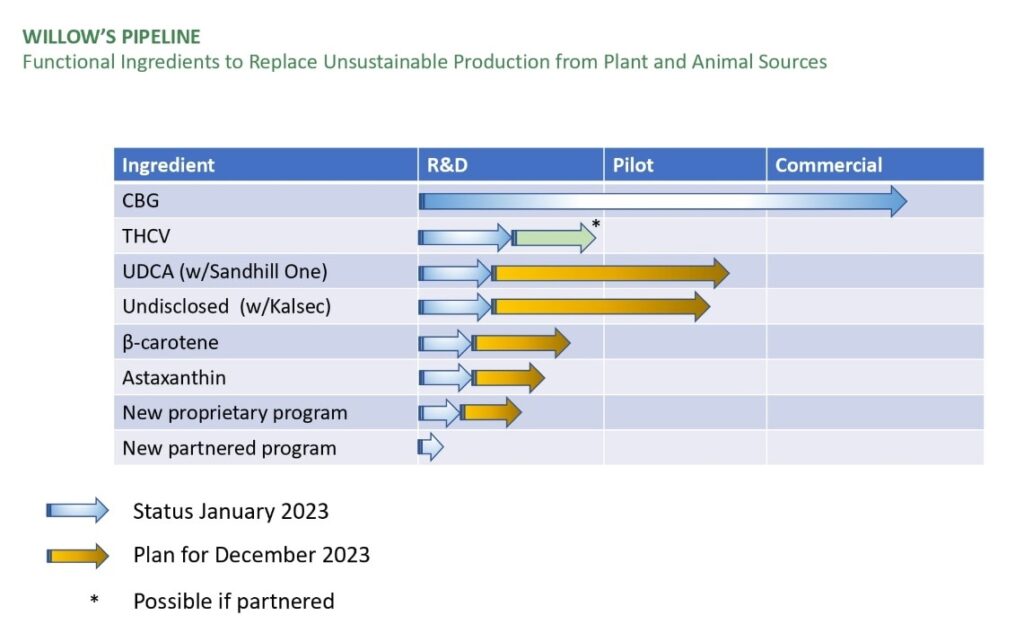 "We are delighted that our partner recognises that our expert strain engineering capabilities can help accelerate and support its product innovation needs to develop novel solutions for age-related diseases," said Willow's president and CEO Dr Chris Savile. "Furthermore, their dual commercialisation strategy supports the generation of nearer term product revenue from the nutritional supplement segment along with longer-term upside from the pharmaceutical sector."
The CEO added: "With this agreement and other positive developments we've announced in recent weeks, we continue to believe 2023 will be a solid year of growth and progress for us with the anticipation of our being able to post fundamentally improved financial results for the year."
Enzyme production
Savile's comment about "other positive developments" is a reference to the deal struck with Michigan-based Kalsec Inc., a global producer of natural taste and sensory, food protection, colours and advanced hops ingredients for the food and beverage industry.
The follow-on MSA is to develop an enzyme used in biocatalytic production of an advanced ingredient for use in natural beverage applications. This marks the second collaborative development programme the two parties have engaged on, following the announcement of an MSA last November for which Willow has already successfully achieved development goals in a short time claims the company.
Savile commented: "We are pleased to have executed this follow-on engagement and to rapidly attain our joint development goals. We look forward to further evidencing our technological capabilities through what we believe will be a similarly successful outcome for this next programme."
Dr Roger Nahas, executive vice president of global R&D and chief innovation officer at Kalsec said: "We are excited to expand our partnership with Willow and leverage each other's significant domain expertise toward what we believe will be successful commercial-scale production in 2024. This work also supports Kalsec's purpose of unlocking the potential of people, nature and science to nurture the world."
Kalsec's projects tend to focus on yeast, which, among other applications, is an ideal host for making numerous ingredients for the food and beverage sector. By working closely with its customers, Kalsec says that its development team has identified multiple potential opportunities for collaboration and innovation in this space.
The family-owned company has over 60 years of experience in making food and beverage products look and taste better, and last longer. It is also a certified B Corp.
In mid-June, Willow gave a business update at the Emerging Growth Conference, a vehicle for public companies to present and communicate new products, services and other major announcements to the investment community.
The event covered a wide range of products and services growth sectors with a focus on strategy, execution, and the overall potential for long-term growth. The audience included individual and institutional investors, as well as investment advisors and analysts. An archived webcast is available on the Emerging Growth website and on its YouTube channel.
---
Join us at SIAL Paris as exhibitor Join us at SIAL Paris as visitor