The Bottle Collective to combat single-use plastic waste with fibre packaging
The newly-launched Bottle Collective will develop alternative packaging made of fibre to help combat the use of single-use bottles across the food and beverage industry.
The Collective was launched by PA Consulting, a US-based consultancy firm, as well as PulPac, a Swedish research and development company that is credited with developing the production of Dry Moulded Fibre.
Bottle Collective uses patented process to fight single-use plastic waste
Dry Moulded Fibre is the first industrial method that turns cellulose fibres into packaging, according to Pulpac, who also claim the process is high speed, low cost, market ready and sustainable.
The process works by creating fibre-based packaging formed with renewable pulp and cellulose extracts. Paper or pulp is taken to a mill, where it is separated into fibre. Said fibre is formed into a cellulose web, and a standard plate press with specific tooling turns this fibre web into a mould. Pulpac claims that less CO2 is used by its patent-protected manufacturing process compared to plastic wet moulding options, as well as almost no water.
The Bottle Collective claims that fibre bottles have a variety of uses within the food and beverage industry, with applications for water, soft drinks and alcoholic beverages, and that they could also be used in the cosmetics industry.
The initial process for Dry Moulded Fibre is almost finalised, with PulPac and PA Consulting's design, automation, material sciences and mechanical engineering teams recently developing the first functioning prototypes. What comes next is scaling the innovation throughout the industry, with various brand partners joining the Bottle Collective for this next stage which will apparently be finalised by 2025.
"We are thrilled to announce the Bottle Collective. Together with leading global consumer brand partners, we can fast-track the development of the world's first Dry Moulded Fibre bottle. This will make the most of our renewable resources while delivering significant positive impact to reduce today's single use plastic pollution," said Tony Perrotta, PulPac Partnership Lead at PA Consulting.
"We have the technology. We have a functioning prototype and process. We are now ready to enter the next stage – demonstration that our Dry Moulded Fibre bottles are capable of being produced at the speed, volume, and cost necessary to match the massive scale of this global industry challenge."
"Plastic bottles are the holy grail of plastic replacement. They have an estimated annual production volume of up to 500 billion pieces and are a significant source of plastic pollution worldwide," said Sanna Fager, Chief Commercial Officer at PulPac.
"We are proud to share some of our patent-protected advances with PA Consulting, combining Dry Moulded Fibre's forming versatility, broad barrier applicability, and high production efficiency. Backed by strong partnerships across the value chain, we can bring competitive unit cost into the fibre bottle space, enabling the shift away from today's single-use plastic. We encourage all brands and relevant industry actors to join this force for sustainable change."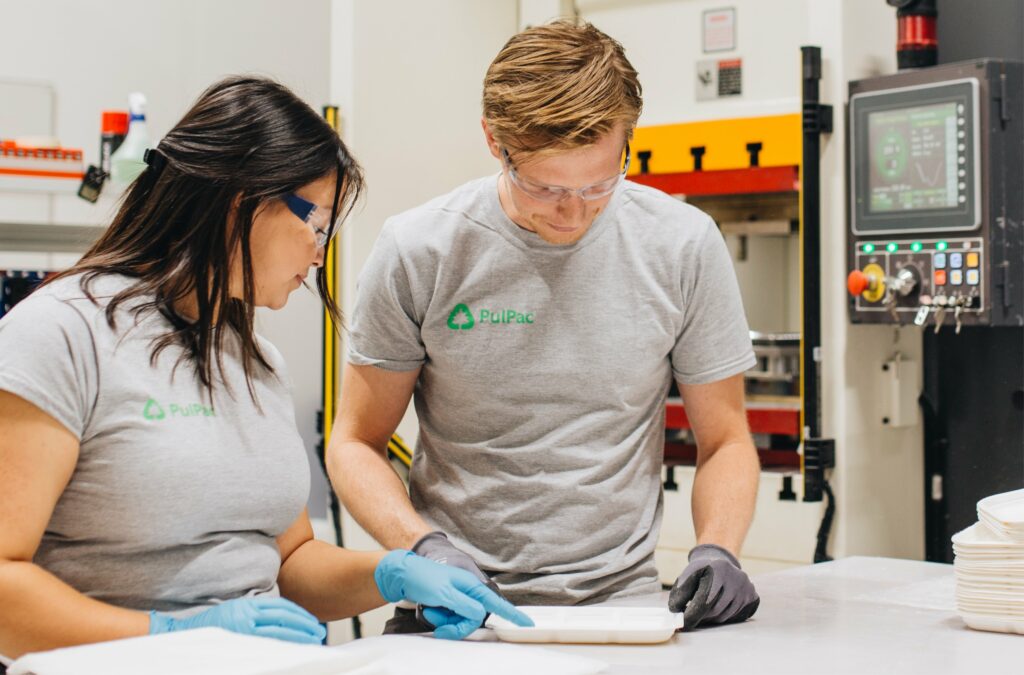 Dry Moulded Fibre licensed to Nippon Molding
PulPac recently announced that it had a first licensee in Japan, Nippon Moulding, who intend to supply Japanese consumers with Dry Moulded Fibre products including food trays and coffee lids.
Nippon Molding recently ordered a PulPac Modula from TechTribe, the Swedish company's machine partner. The Japanese company has made it clear that it wishes to launch its fibre-based products on the market in "speedy" timing.
Nippon Molding has a developed background in the moulded fibre industry, and is apparently an industry-leading producer of egg trays in Japan.
"We keep challenging ourselves for a better future," said Takehiro Ishihara, General Manager of Nippon Molding. "Making this revolutionary fibre-forming technology available to our customers will drive sustainability in the Japanese market and contribute to a greener society."
---
Join us at SIAL Paris as exhibitor Join us at SIAL Paris as visitor