STRATEGIES TO DRIVE THE $10BN NO/LOW ALCOHOL MARKET FORWARDS
As we have previously reported, the no/low alcohol market in the ten top markets tracked by drinks analyst IWSR reached close to $10 billion in 2021. But the scope for development is enormous, with the category set to record a compound annual growth rate (CAGR) of 8% between 2021 and 2025, if the right strategies are adopted.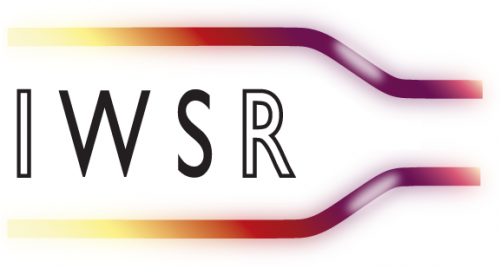 More big brand owners are stepping into the space, but how they do it can vary. At least three approaches are being used: launching an extensions of an established brand like Tanqueray Gin 0.0% or Gordon's 0.0%, both from Diageo; creating new lines as William Grant has done, or developing a brand entirely dedicated to the no/low alcohol market in the cases of Seedlip or Pentire.
Emily Neill, chief operating office of IWSR Drinks Market Analysis, says: "Interest in no/low alcohol drinks has become a year-round trend among consumers across the world. To meet that demand, beverage alcohol companies are investing heavily to introduce new products – and many established mainstream brands have recently crossed over to develop no/low alcohol versions of their popular beers and spirits."
Is cannibalisation a threat?
There are some potential pitfalls for existing full-strength lines with no/low alternatives as there can be cannibalisation. IWSR data show that 43% of consumers are substituting no/low for full-strength alcohol on certain occasions – but fewer than one in five are avoiding alcohol altogether.
Diageo is persevering with its strategies nonetheless on the basis that the no/low segment "is complementary to the alcohol category". The company says: "Social occasions are becoming increasingly diverse to cater for those who choose not to drink alcohol, as well as those who do."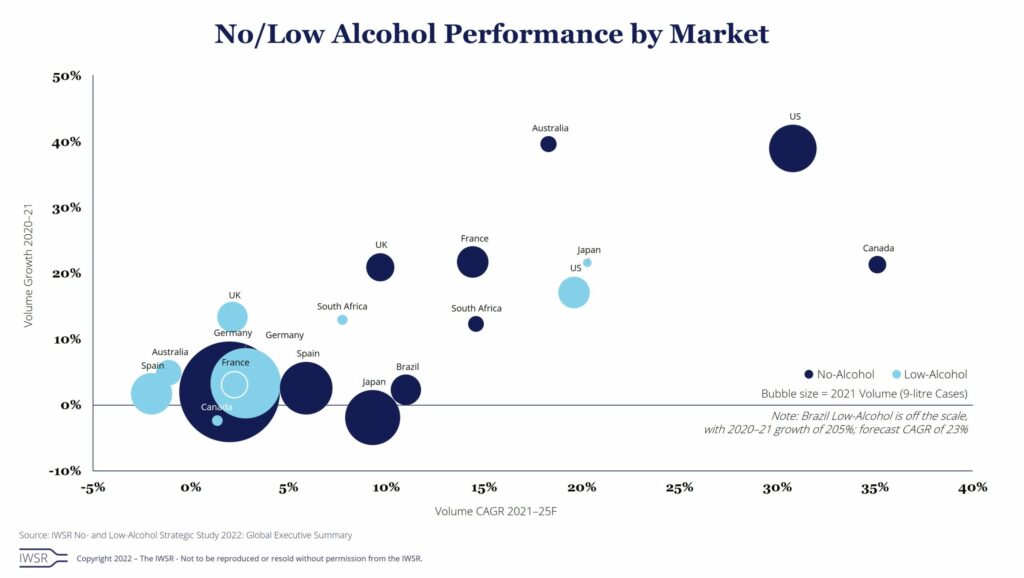 Younger generations are drinking less, and as no/low drinks are an option for all, their uptake may be higher when a consumer is given the choice in a store or at a party. The fact that the category is seeing wider interest is also down to spending strategies from brands. Neill comments: "These no/low products generally have strong investment backing, so they are helping to advertise and promote the broader category, and they are typically good-quality with plenty of R&D behind them."
Privately held Bacardi kicked off a year-long campaign in Western Europe dubbed 'Less is More' in January 2021. The aim was to help retailers, bars and e-commerce partners tap into the no-low market. Commenting on zero alcohol by volume (abv) line extensions like Martini Floreale and Vibrante Bacardi's CFO Tony Latham, says: "Non-alcoholic Martini saw the recruitment of more than 20 million new consumers, and that's great for the core brand."
Extra choices for alcohol abstainers
From this branding perspective that might be true, but from a sales perspective time will tell whether no/low versions boost existing full-strength lines, or simply lead to switching. In the case of beer, strategies to add no/low lines have brought more drinkers into the fold. They have done so by giving teetotalers some extra choices aside from soft drinks.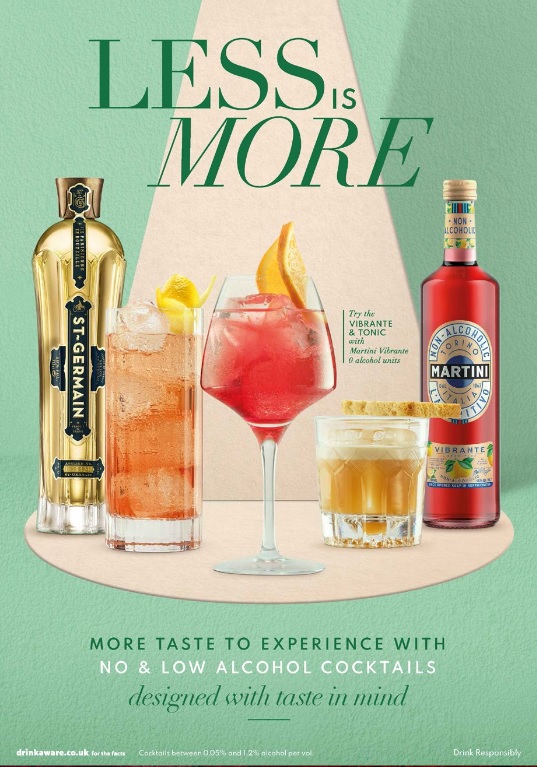 "Here, no/low brand extensions and independent products are now working well together," notes IWSR's Neill. She believes that brand extension strategies help to legitimise and promote the overall category, and as the market matures, there will be more space for independents.
No/low as a combined category has become accepted, but no-alcohol products include a different target consumer from the low-alcohol market: one that does not drink alcohol at all. As such no-alcohol lines can be marketed differently to recruit new demographics. "We believe there is space for both," says Bacardi's Latham. "Having a play in both no- and low-alcohol allows us to provide more options and connect on more occasions, and therefore more frequently, with consumers."
Strategies by category
IWSR thinks that strategies will differ based on the type of no/low alcohol category, for example beers, spirits or wines. Neill says: "For example, our data show that in many markets, spirits performance is currently following more of an all-or-nothing trend in terms of abv."
The analyst adds that the main barriers to increased consumer take-up of no/low products are lack of choice, lack of availability, and price, and this may be driven, in part, by caution from retailers and on-trade bars and restaurants.
But there is no sign that the number of no/low launches is slowing down – and while not all these launches will survive, their presence will help boost visibility. There is still a lot to learn while the category evolves and for now, experimentation strategies will continue.
---
Join us at SIAL Paris as exhibitor Join us at SIAL Paris as visitor