SWEDISH FOODTECH START-UP CREATES WORLD'S FIRST FOOD FROM THIN AIR
Swedish foodtech start-up Green-On has developed a way to create food from thin air – an edible fat – from carbon dioxide, water and electricity, in a bid to create a sustainable alternative to tropically-grown vegetable fats and oils such as palm, coconut, shea and cocoa.
With its new product, the company also hopes it could potentially offer a healthier replacement to grains and fats grown in milder European climates including canola, sunflower and soya. The problem with these is that they need to go through a process of hydrogenation, which produces harmful trans fats.
Green-On has announced that it has two new investors/partners in its 'truly sustainable' patented proprietary technology which could be used in both the food and animal feed industries.
The first of its investors is AAK – a global actor within plant-based oils and the partnership means that Green-On now takes an important step towards industrial production.
Annette Graneli, CEO of Green-on, commented: "AAK is a great partner that now invests in the company – together we have the possibility to develop both the process and upcoming products for our ultra-sustainable oils and fat."
Anders Lorén, CTO of Green-On, added: "Together with AAK's competence we will now take a big step towards commercialization and scaling. It's really strengthening that an industrial partner as AAK sees the large potential of our technology, both for production of ultra-sustainable food ingredients as well as the possibility to create new types of products."
Karsten Nielsen, chief technology officer at AAK continued: "Besides palm oil, there are today very few plant-based oils with which we can create the functionality of solid, high-melting fats, which are used in, for example, plant-based meat."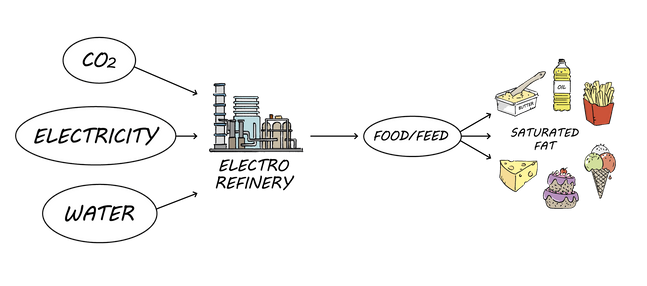 "This technology provides the exact part of the fat that is needed to create the functionalities of future food production and with a much lower environmental impact than any other known technology today, making it a perfect fit with AAK's strategy."
Norrsken Impact Accelerator is an early startup fund that supports solutions set out to solve some of the greatest global challenges such as climate change. "We are happy that Norrsken supports us at this stage of the development. Norrsken will provide mentors and support for us to further build the company" commented Annette Granéli.
Since 2021 Green-On has been supported by Big Idea Ventures that also brought AAK and Green-On together, the company said in a press release. "At Big Idea Ventures we help accelerate change by bringing together great companies and strategic corporate partners. Green-On and AAK is the perfect example of how corporates and startups can work together to create solutions delivering a sustainable food future," says Andrew D. Ive, general managing partner at Big Idea Ventures.
Green-On is a foodtech company producing ultra-sustainable oils and fat that can be used to replace tropical fats such as palm- and coconut oil as well as animal fat. Green-On uses a technology that bypasses agriculture which leads to ultra-sustainable food ingredients where no arable land is used for production. The technology is based on a power-to-food concept that uses fossil-free electricity, carbon dioxide and water to produce the oils and fat.
Green-On is not the only Scandinavian attempting to create food from practically nothing – Finland's Solar Foods has created a form of protein "out of thin air", using the same "ingredients" – carbon dioxide, water and electricity.
The type of ingredients we are focusing on is saturated fat (triglycerides). Saturated fat is today found in tropical plants sources such as coconut, palm oil and animal sources. These types of fats are associated with deforestation and substantial green-house gas emissions.
Our saturated fat can be custom made for the specific application and can be used in a variety of processed food products such as cheese, baked goods, ice-cream, chocolate and shortening. Using our technology, we can also provide mono- and diglycerides that is used as emulsifiers in a variety of food products.
For more organic and wellness news, click here.
---
Join us at SIAL Paris as exhibitor Join us at SIAL Paris as visitor