Relais & Châteaux takes action for sustainable seafood on World Oceans Day: Embracing SEAsonality
Since 2009, the 580 establishments of Relais & Châteaux have been at the forefront of a collective effort spanning over 60 countries. Their mission? To sensitise their clientele to the importance of sustainable seafood and the pressing issues surrounding it.
Relais & Châteaux is proud to celebrate World Oceans Day on June 8, 2023, for the sixth consecutive year, this time in collaboration with Ethic Ocean.
As the United Nations' World Oceans Day adopts the theme "Planet Ocean, Tides are Changing" (#PlanetOcean, #TidesAreChanging), Relais & Châteaux strives to amplify the message by shedding light on the concept of SEAsonality (#SEAsonality).

By emphasising the seasonal availability of seafood, the company encourages a profound understanding of the interplay between sustainability and the choices we make.

Through numerous participating restaurants, they offer delectable dishes that uphold the principles of responsible seafood sourcing.
Chefs as ambassadors of change: Inspiring a wave of sustainable dining
Throughout the month of June, Relais & Châteaux's esteemed chefs take centre stage, showcasing their culinary expertise and unwavering dedication to sustainable seafood.

From thoughtfully curated menus to engaging cooking classes, they not only tantalise taste buds but also engage in meaningful discussions about the importance of seasonality.

By inspiring their patrons to reconsider their dining choices, these chefs aim to ignite a transformative wave of change that safeguards our oceans for future generations.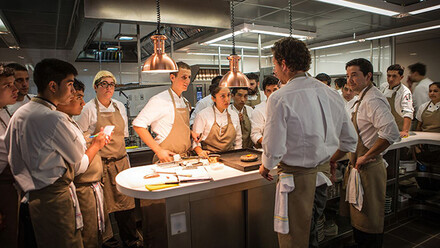 Ethic Ocean and Relais & Châteaux: A powerful partnership for ocean conservation
Relais & Châteaux has joined forces with Ethic Ocean, a renowned organisation dedicated to marine conservation, to deepen the understanding of SEAsonality*.

Through a collaborative effort, they have produced a comprehensive guide that highlights concrete examples of fish species to avoid consuming. This valuable resource ensures that both chefs and consumers have the knowledge they need to make informed decisions, fostering a sustainable approach to seafood consumption.
Together, Ethic Ocean and Relais & Châteaux champion the protection of our oceans. From their early engagement in saving the endangered East Atlantic and Mediterranean bluefin tuna to their ongoing commitment, these organisations demonstrate the profound impact that collective action can have. As the members of Relais & Châteaux continue to evolve and address complex sustainability challenges, they lead the way in transforming industry practices for the betterment of our marine ecosystems.
On World Oceans Day and beyond, Relais & Châteaux and Ethic Ocean invite everyone to embrace SEAsonality, to savour the flavours of sustainable seafood, and to contribute to the preservation of our magnificent oceans. Let us come together and create a future where our oceans thrive and the bounty of the sea remains abundant for generations to come.
See also : Aqua cultured foods secures $5.5M in funding for pioneering seafood alternatives
---
Join us at SIAL Paris as exhibitor Join us at SIAL Paris as visitor